Several Fires In The Forest This Week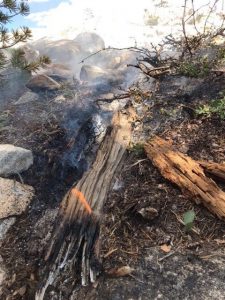 STF fire started by lightning strike to tree

View Photo
Stanislaus National Forest, CA — Stanislaus National Fire crews were kept busy this week working on five fires.
Three of the blazes were caused by lightning strikes after stormy weather blew through the region, with one bolt hitting a tree, as pictured in the image box. The other two fires were contained and their causes remain under investigation. Forest fire officials released this update on those fires:
GEM FIRE – At approximately 4:15 p.m.6/21 Wilderness Rangers reported a small fire burning at the base of a tree above Gem Lake. The Rangers immediately dug fire line around the tree, stopping the fire's spread, and doused the burning vegetation with water until the area was cool to the touch. The Wilderness Rangers returned the next day to verify the fire was out. Pictures were sent to a fire investigator to determine the cause of the incident. Fire was called contained 6/23.
Mine Fire – 6/23 area of El Portal and Saddle Hill Road. Stanislaus National Forest Resources were dispatched but released after resources from the Sierra National Forest and Yosemite National Forest contained the fire.
Moran Fire – Crews responded to a vegetation fire, that was determined to be from a lightning strike, near Lake Moran in the Calaveras Ranger District. No control issues detected and the fire had a low rate of spread – 2 fire engines, and a 10-person crew contained the fire yesterday, 6/23. Friday, 6/24, firefighters continued mop up of the fire.
Run Fire – Near Bull Run Creek in the Carson-Iceberg Wilderness Area. Reported on 6/23, as a single tree torching, at approximately 5:30 p.m. by Air Attack flying a lightning recon of the Stanislaus National Forest. Friday, 6/24, fire crews were inserted by helicopter near the East end of Spicer Meadow Reservoir, and are hiking in to begin initial attack. As of 3:05 p.m. 6/24 resources are on scene and beginning line cutting operations. Thus far, 1/4 burned and slow rate of spread.
Slick Fire – 6/24, single tree torching caused by lightning strike in the Utica Reservoir area. Crews are still working on this fire but no structures are threatened, low rate of spread, and no expected containment problems. Currently, 10 fire personnel are assigned.