Sonora Man Flown To UC Davis Following Explosion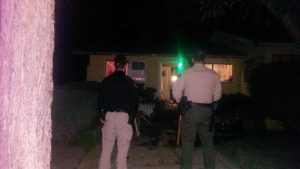 Montgomery Road Crime Scene Investigation

View Photos
Sonora, CA — The Tuolumne County Sheriff's Office conducted a drug investigation after a man was found with burns all over his body.
It happened over the weekend in the 21000 block of Montgomery Road. An unidentified 48-year-old man at the residence was injured from an explosion, and deputies found a Butane Honey Oil lab. The man was flown from Sonora to UC Davis to receive a high level of care.  The scene was then turned over to the Tuolumne Narcotics Team for a full investigation.
According to the Sheriff's Office, "In the Butane Honey Oil lab process, marijuana is packed into a container. The container is, more often than not, a cylindrical shape container and capped off at both ends. One end allows for butane to be gravity fed into the container. The butane chemically washes out concentrated THC (honey oil, hash oil, wax,…) from the marijuana out of the opposite end of the container. Butane used is a highly flammable, colorless, and easily liquefied gas. Butane is commonly used as lighter fuel for cigarette lighters. Something as little as static electricity could spark the explosion. Last year alone, Butane Honey Oil explosions killed 32 people and injured many more in California."
An investigation into the incident is ongoing. The man's name has not been released.