Voters May Decide Fate Of Governor's Twin Tunnels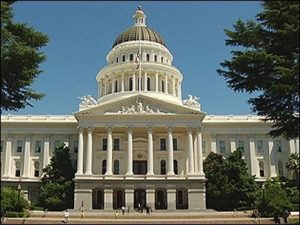 California Statehouse

View Photos
Sacramento, CA — Legislation has passed a key Assembly committee test that would require a vote among Californians before breaking ground on Governor Jerry Brown's proposed twin-tunnel water project.
The project is estimated to cost upwards of $15-billion and calls for the construction of two 35-mile and 40 ft. wide tunnels to help transport water in the state.
The project has been criticized by some leading environmental groups, arguing that it would negatively impact freshwater flows into the San Francisco Bay Delta, impacting the environment and salmon population.
The proponent of the new bill is Central Valley Democratic Assemblywoman Susan Eggman. She says, "This bill rests on the simple premise that some projects have such statewide significance, and carry such as substantial price tag, that they warrant a statewide vote."
Eggman's bill also calls for an economic feasibility study to be completed before the project moves forward. It passed the Assembly Water, Parks and Wildlife Committee on an 8-4 vote.