Devastating Number Of Trees Dead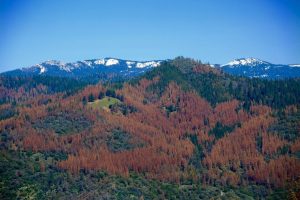 Aerial view of dead trees in the Pacific Northwest Region (California)

View Photos
Vallejo, CA — An aerial view captures the sea of brown, painting a bleak picture of a huge jump in the tree mortality number.
In 2015 the number of dead trees rose to an estimated record-high of 27.6 million trees in California, which makes the U.S. Forest Service flyover surveys even more critical. Forest Service spokesperson John Heil notes, "That's about 10 times the previous estimate high, which was 3.3 million in 2014." He adds, "I do know a lot of the trees we saw that looked alive last year were actually in fact dead. So, we're probably going to see those trees dead as we go out and do the surveys this year."
Additionally, this information will be put into a national database. "I like to think of it as doing an annual checkup of forests for the whole state," shared Jeffrey Moore the Aerial Survey Program Manager. "Getting that pulse, reading the vital signs and assessing the severity of ailments and the general health overall. It is also good for historical purposes to see the trends over time. There are a lot of theories out there and this helps to check that and potentially reinforce, fine tune or cause us to rethink commonly held concepts."
The aerial survey information assists in setting goals for the forest, which include prioritizing timber harvesting. Heil explains, "Basically what we do is we take that information and we figure out what we need to do on the land. Does that mean there needs to be more thinning projects to make the land healthier, more resilient?"
The survey team flies a Cessna 205 plane at 120 mile per hour using a three-mile grid pattern to cover the landscape, according to Moore. With over 150 flights per year from June through September, Moore and an additional surveyor piece together what they see on the landscape. This year's flights are scheduled to begin in June.