Summerville Announces New Administration Lineup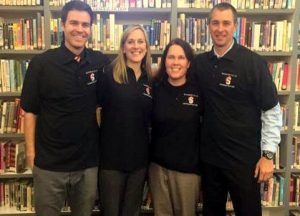 (Archive Photo) Kellene Ditler second from left, with staff members Daniel Atkins, Diana Harford and Steve Sweitzer

View Photos
Tuolumne, CA — Sweeping changes that include four administrator hirings became official at this week's Summerville Union High School District Trustees' meeting.
As previously reported here, among the expected restructuring moves telegraphed in the past two weeks by the district, the trustees on Wednesday made the formal announcement that, beginning July 1, Connections Academy Principal Diana Harford will step into a dual role as Summerville High Principal. The board also announced that filling a newly created slot will be Deputy Principal Steve Sweitzer. Daniel Atkins and Kellene Ditler have additionally been tapped to serve as Grade Level Coordinators. (Click in the left image box to view an image of the new team.)
As a result, says District Superintendent Robert Griffith, "We have four administrators who are all from Tuolumne County, all high functioning and who went through a very rigorous process to be selected…offered and appointed to these positions." He notes that, as a group, they bring over 77 years of full time educator experience. "Transition is a lot of work — reorganization is a lot of work…painstaking, and it opens up the district, board and myself for criticism," Griffith shares. "Anytime you change a structure or personnel it comes under a lot of scrutiny, which is understandable, but we have gone through most of the process — and now, it is just a matter of putting folks in place and moving forward."
Harford, an administrator at Summerville for 20 years, has served in many capacities, and was most recently the district's Director of Curriculum and Instruction. Sweitzer, currently a Grade Level Coordinator at Summerville, previously spent 13 years working at Soulsbyville School and worked for the Rio Linda School District for seven years before that. He has teaching experience in multiple subjects and has also been an athletic director and administrator. Atkins, who has spent the past seven years as a Summerville teacher, is also a Summerville graduate. Ditler, who brings 20 years of experience, was a teacher, coach, athletic director and mentor at Curtis Creek Elementary, and grew up attending it as well as Sonora High.

New Adult Ed Program Coming
Among other new moves the district unveiled an Adult Education program using online instruction that will be funded through a block grant. "That funding is going to allow us to provide a program for adults in our community, particularly around the Tuolumne area, for folks who have not completed their high school diploma," Griffith explains. Last night the board approved the hiring of Kathy Horak as the program's Adult School Teacher/Coordinator. Over the summer, Griffith describes, "We are also going to completely renovate one of our classrooms that is already a computer lab and update that with new, state-of-the-art furnishings, technology and computers." The area will be in use by Summerville students during the day and adult students in the evening hours.
Last night the board also reached a tentative agreement with the Summerville Federation of Teachers for a 3.5 percent pay increase. Among purchases approved were two school vans and a new bus with a lower emissions standard, as required by state law, for about $180,000. Griffith states that half the cost for the bus will come from a state grant with the balance being drawn from the district's coffers.
Griffith also shares that the district put together a Memo of Understanding (MOU) with the Summerville Parent Nursery to formally sponsor the program. As previously reported here, the organization was in the process of weaning itself from district funding. The proposed agreement allows the program to continue operations, also transferring liability and financial responsibility to the nonprofit 501 c 3 parent group. According to Griffith, plans include that the Nursery will rent the building that it is currently in. He adds, "The district will continue to work with the Nursery on hiring their one employee, and run the finances, payroll and workmen's compensation through the district." He confides, "[The parents] have done a lot of hard work…the district is providing that additional oversight that helps them function in the way that they would like."