Volunteer Recognition Awards And Luncheon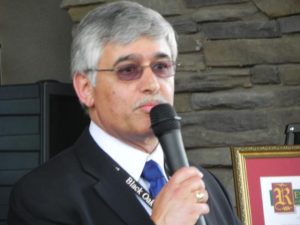 Ron Patell

View Photos
Every third Friday in April, Sierra NonProfit Services coordinates a springtime luncheon for 150 to 200 people of the volunteer community. It's a day to celebrate volunteerism and honor quiet, everyday heroes who answer the call to serve community, either as a part of an organization or as an individual.
Donna Wilson, Executive Director for Sierra Nonprofit Services, was Thurday's KVML "Newsmaker of the Day".
The luncheon and award ceremony will be emceed by Maryann Curmi of Star 92.7 FM. The main speaker is Ron Patel, Chief Executive Officer of Black Oak Casino Resort.
Every year, the "Volunteers, the Heart of Tuolumne County" Luncheon gives out awards to volunteers who are nominated by other volunteers in the community. Then a distinguished panel of local citizens review the nominations and select the winners.
The volunteer award categories are:
Extra Mile Award – Awarded to an individual who has made personal sacrifices to help the community.
The Volunteer's Champion Award – Awarded to a nonprofit organization that does an outstanding job of supporting and recognizing its volunteers.
Community Excellence Award – Awarded to a for-profit business that promotes volunteerism among their employees and supports nonprofits in the community.
Never Too Young Award – Awarded to a person between the ages of 6 and 18 who sees beyond themselves and works to improve the community.
Lifetime Achievement Award – Awarded to an individual to honor a lifetime of volunteer service that has positively impacted the community.
The luncheon takes place this Friday April 15th from noon – 1:30 PM at the Sonora Elks Lodge. This is open to the public and tickets are available for $20 each at the door.
Sierra Nonprofit Services is a non-government organization that exists to help educate, empower and supply resources and tools to both individuals who volunteer their time and organizations or groups that serve and give back to our local community.
According to Wilson, the group is driven to see local non-profit organizations succeed and will show organizations everything from how to form a 501c3 to supplying the proven tools for funding, marketing strength and staff training.
One of the services offered is to match individuals that want to volunteer with organizations where they would likely fit best.
Wilson emphasizes that is important to recognize those who selflessly give their time. They are considered to be the quiet heroes of our community. Without them, important things would not get done … like raising funds, building needed projects, distributing food and comforting those who are facing an emotional crisis.
For more information on Sierra Nonprofit Services, call (209) 533-1093 or log onto http://sierranonprofit.org
The "Newsmaker of the Day" is heard every weekday morning on AM 1450 KVML at 6:45, 7:45 and 8:45am.