Calaveras Asks State To Make 'Wagon Trail' Project A Priority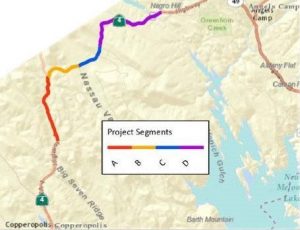 Hwy 4 Wagon Trail Project Map
San Andreas, CA — Local advocates of Calaveras County's only state highway improvement project report that an appeal for Sacramento to not cut any funding from it went well.
As previously reported here, Calaveras County Council of Governments (CCOG) Executive Director Melissa Eads and other local stakeholders planned to make their case before the California Transportation Commission (CTC) at a Thursday hearing. Reporting back to Clarke Broadcasting on Friday, she happily states, "CCOG has done a wonderful job advocating…and working with elected officials to inform them of the seriousness of this funding crisis and the impacts it is having to our rural region."
CCOG is arguing that in order to deliver a meaningful construction project along the corridor, it will require every dollar of the county's STIP regional shares as well as coordination of the programming schedule with the SHOPP Innovative Pilot program. The latter is key, should $10.3 million in conditional, recently awarded SHOPP funding ultimately be green-lighted by Caltrans Headquarters and CTC. According to Eads, the Wagon Trail improvements meet at least five of the CTC's "top ten" criteria for receiving prioritization. Among these: planning, programming and monitoring already in place; STIP and other competitive funding sources; required mitigation; contributions towards state highway safety, operational improvements and capacity expansion. For more on the project's costs, funding details, purported benefits, and development plans, click here.
Irregardless of CCOG and Caltrans District 10 efforts, the CTC, due to a major funding shortfall, must find a way to cut $754 million in highway improvement projects. Eads acknowledges, "It is a very difficult job prioritizing very limited funding amongst critical transportation projects statewide. Calaveras will learn on April 22, with CTC staff recommendations, if our project remains viable." She adds that, no matter the short-term outcome, CCOG will continue to work with partners over the upcoming year to address the fiscal crisis — and continue advocating for rural transportation funding.
As part of those outreach efforts, CCOG has released a new Highway 4 Wagon Trail Project video that it is sharing on YouTube as well as on the organization's Facebook page and website. To view it, click here.