Fighting To Keep The Hwy 4 Wagon Trail Project Rolling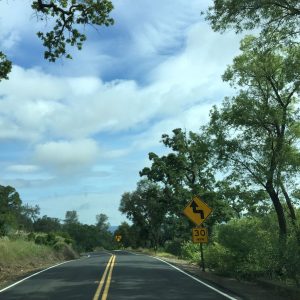 A section of Highway 4 in Calaveras County

View Photos
San Andreas, CA – After years of incremental progress Calaveras County's most ambitious highway project now attempts to bridge a rocky gap that may bring it to a grinding halt.
It seemed that the Highway 4 Wagon Trail Project, which earlier this month lassoed over $10.3 million in conditional grant funding under an innovative Caltrans SHOPP (State Highway Operation and Protection) pilot program had finally generated enough financial steam to help spur it on through its first construction phase.
However, as Calaveras Council of Governments (CCOG) Executive Director Melissa Eads states, the currently looming state funding crisis affecting the State Transportation Improvement Program (STIP) may yet derail it. STIP funds have served a primary revenue source for planning the long-anticipated now $60 million-plus improvement project that continues to be the area's top transportation priority.
Plans are otherwise on track to keep the project rolling forward towards final completion sometime in 2021. Over the past few months the Angels Camp City Council and Calaveras County Board of Supervisors reviewed two proposed alignment alternatives. Ultimately both chose the same, somewhat less expensive design that strikes a path in agreement with the existing roadway that made up part of the Gold Rush Era 49er wagon trail as the "locally preferred" version. Now, Eads shares, "It is up to Caltrans to ultimately make that decision with the adoption of the final Environmental Impact Report (EIR), which we are anticipating to be completed near the end of March or early April," she adds.
Decades Of 'Wagon Trail' Planning Spur Project On 
Literally, decades in planning with community involvement through public workshops, the much anticipated project has broad support across stakeholder groups. Advocates point to the project's ability to deliver improved access to businesses and recreation that will reap local and state economic benefits. The planned roadwork will also significantly improve safety, both by improving the corridor for emergency vehicles and fire protection, and by addressing present issues such as deteriorating pavement, sight distance issues and design challenges of a non-engineered road. The improvements will also increase bicycle mobility and pedestrian safety.
Eads points out that the California Transportation Commission (CTC), forced to cut $754 million statewide, was asked to consider cutting and or deleting programs where possible, and will be collecting those revised strategies in the coming weeks. The Wagon Trail, which is the Calaveras region's only project, is just one of many projects potentially on the statewide chopping block due to the critical revenue shortfall that is now being further compounded by legislative decisions that seem mired in molasses.
"Agencies receiving hundreds of millions of dollars for their regional transportation program…might be in a position to cut projects, but for rural Calaveras, we have invested decades of planning and…investment into the State Route 4 Corridor — and this is the one and only project that we have," Eads emphatically states. She maintains that the state-proposed local cut of $1.5 million from the region's $6.6 slated million would ultimately decimate the project and jeopardize the Caltrans SHOPP award.
Wanted: 'Every Dollar' Of Planned Funding  
As part of phase one, Eads explains that they have identified a critical area along a six mile corridor stretching from east of the Pool Station Road curve to the Appaloosa Road intersection.
With design completion this fiscal year estimated at nearly $2.5 million and almost $4.2 million needed for right-of-way and construction the following year, CCOG and its partner stakeholder agencies hope to convince CTC that the region critically needs to retain every dollar of its previously earmarked improvement funds to essentially cover the portion of this essential initial construction.
The hugely supportive $10.3 million Caltrans SHOPP pilot grant has been a game changer, according to Eads, as well as a viable display of partnership with Caltrans District 10 in keeping with mutual goals to collaboratively optimize delivery of a seamless, integrated set of highway improvements. "The goal of the [SHOPP] program is to look differently at construction projects along the state highways…to break down the funding silos that exist and…to find ways to streamline and integrate projects, so that we can work with the state to deliver a more meaningful construction project along the corridor," she explains. The Calaveras County State Highway 4 Wagon Trail Project was one of 37 projects selected statewide to draw from a SHOPP funding pot totaling $100 million.
The intent of CCOG's aggressive schedule is to effectively align its two funding programs to leverage a bigger project, something that Eads does not believe has previously been accomplished that often. "I think that is really the success of Caltrans' vision, especially Caltrans District 10, in looking at innovative ways maximize taxpayers dollars to deliver the most meaningful project that we can — working with area agencies, partnering to make the projects more powerful," she remarks. CCOG's next steps are to advocate for the project and funding strategy during CTC's March 24 STIP hearings. Ahead of that, CCOG is engaging with legislative staff on talking points while reaching out to legislators to marshal additional support.
Staging An All-out Effort 
"We are in a position to advocate now and I feel that if we do not advocate no one will…this is our best chance to keep our Wagon Trail Project on the books, so to speak," Eads states. "I think that we are in a great position, thanks to our relationship with Caltrans District 10 and leadership of the executive staff at District 10 responsible for bringing the innovative pilot project opportunity to us…the life support giving our project the opportunity to see another day…providing us a little more strength in our advocacy."
Eads projects that, as CTC staff recommendations are anticipated to come out in early April, CCOG might know by April 22 if the project will be able to proceed. Fingers crossed, she says, "If we do get CTC approval we will be moving forward July 1 in 2016 and 2017 with the design — and then our program is moving pretty quickly, because then we hope to have right-of-way and construction programmed in 2017-2018."
While clearly advocating for her project, Eads is keen to point out CTC's difficult position along with that CCOG is not alone in fighting a currently uphill battle to save worthy project plans. "I think that the bigger issue is a need to find a solution to this funding crisis," she says. "Unfortunately, it is for us, our Number One priority…the only project that we have in our regional program — and so the consequences to us are dire."