More Recycling Headaches Coming From Center Closures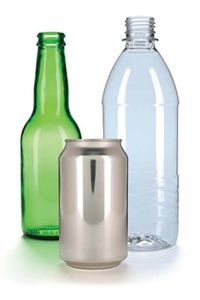 CalRecycle Container Images

View Photos
Sonora, CA — Recycling options across the Mother Lode and other rural areas are shifting due to sharp declines in reclaimable material values that are causing recycling centers to close.
Beyond the unpredictability of commodities' prices, such as oil, CalRecycle Communications Director Mark Oldfield points out that the most recent market losses are practically unprecedented. "The lower pump price we have been paying for gas is, I guess, kind of the silver lining," he says wryly. Continuing, he adds, "The downside is the drop off in what somebody is willing to pay for a ton of plastic is now competing with virgin oil, which went from $100 a barrel to $30-something a barrel — which is becoming a difficult market for the recyclers to compete in." Soon, Oldfield states, there will likely be alternative options for consumers who purchase California Refund Value (CRV) beverages and seek to cash-in their containers — such as back at their point-of-purchase.
About eight weeks ago rePlanet, the largest operator of recycling centers in the state, pulled the plug on about 200 of its lower volume locations, disproportionately impacting the state's rural areas, according to Oldfield. As he points out, all five rePlanet centers in Tuolumne and Calaveras counties have shuttered. That leaves only three area locations to cash in CRV containers: Waste Management Cal Sierra Disposal (14959 Camage Ave.) in East Sonora; Sandoval Recycling (3319 Hwy. 132) in La Grange; and Valley Springs Recycling (148 Main St.).
CalRecycle is taking steps to try to help alleviate the situation through incentive programs for operators while the commodity markets are down, according to Oldfield. Too, he shares, "We know that at least one application has come in to establish another location in Calaveras County, but I am not sure about Tuolumne County at this point." Providing a primer on recycling laws, Oldfield says the state oversees a network of "convenience zones" that require at least one CRV recycling center to be in service within a half-mile radius of an urban supermarket; for rural areas the area is expanded to a three-mile radius. When a zone becomes "unserved" due to a recycling center closure, it goes into a review process that generally results, with few exemptions, in the issuance of notices to CRV beverage retailers in the surrounding area.
Supermarkets: Redeem Or Pay To Opt-out
So, beginning the week of April 4, CalRecycle will begin sending those notices out, informing supermarkets and other major sellers of CRV container products in unserved zones across the Mother Lode that they will either have to redeem CRV containers in-store or pay the state a daily $100 opt-out fee.
"It is obviously not an ideal solution for the retailers…not an ideal solution for the consumers," Oldfield is quick to admit. "The ideal solution is for the markets to recover…for recycling centers to say 'we can make a go of it' in these areas again, and for someone to establish a recycling center." Beginning April 1, to sweeten the pot for would-be operators, the state will significantly boost the subsidies it pays recycling center operators to handle certain materials, particularly PET plastic, which, unlike aluminum is currently not valuable enough to "pay its own way" through the system.
"Will it be enough to ensure that somebody wants to open up a business – hard to say — but it is a step in the right direction," Oldfield maintains. Sole convenience zone recycling center operations that set up in places such as a supermarket parking lot are additionally eligible for "handling fee" incentive payments by volume from the state.
Back in February, CalRecycle held what Oldfield describes as a large, well-attended stakeholders' workshop to discuss commodity markets' trends and operational improvements to help ride out the markets' pendulum swings. Another one is slated to be held in April. "We are constantly working with the industry to come with solutions to the challenges that the industry faces — we have a tremendous recycling infrastructure in California and we do not want to see it diminished," he states. "Consumers are understandably frustrated..we are doing everything we can to work with the industry to help resolve the situation."