Butte Fire First Phase Recovery Now 99.5% Complete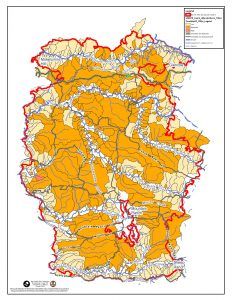 Butte Fire Preliminary 100-year Combined Hazard Map

View Photos
San Andreas, CA — It appears that Butte Fire Recovery officials steering initial clean-up efforts towards completion by mid to late March are right on schedule.
As of Tuesday, officials report that debris removal on participating properties is within a half-percent of finalization. At the height of the clearing activity within the burn footprint well over two dozen crews were working a seven-day schedule; this week just three crews remain actively on the job. Soil samples are now approved for 693 properties; erosion control measures in place on 560.
As previously reported here last November, while the massive clean up effort in the aftermath of last September's nearly 71,000-acre wildfire disaster was kicking into high gear, Board of Supervisors Chair Cliff Edson discussed the challenges and complexities. Among them, he pointed to the great efforts required to effectively coordinate local, state and federal agencies as well as the steep, varied terrain and constrained access issues presented by the burn footprint area. Sharing his perspective he noted, "This is a huge, huge catastrophe that I don't think anybody has experienced in California before. They call it the seventh worst in California history, but I have to tell you in combination with the land and the properties and the [number] of burned houses…it's a very unique situation with lots of moving wheels."
Building Department Gears Up
Now that the initial clean up of nearly all the registered properties has wrapped up, county spokesperson Sharon Torrence says that county building officials are encouraging residents to get their plans and permit applications in to avoid further rebuilding delays. Chief Interim Building Official Michael Renner confirms that the department is in the process of bringing on two extra hires partly in anticipation of related needs and also because the county has experienced a 50 percent increase in permits issued over the past five years. He adds that plans and permit applications for those rebuilding in the burn scar receive priority attention and are placed at "the front of the line."
According to building department data, between Sept. 11 and the end of last year, the infrastructure task force building inspection and permitting program supporting the wildfire recovery efforts issued 148 electrical permits; seven temporary housing permits; eight permanent structure permits; and had 43 sets of permanent structural plans submitted.
From the beginning of 2016 to date the department has issued 54 more electrical permits; eight temporary housing permits; 32 permanent structure permits; two certificates of occupancy; and have taken in 44 sets of permanent structural plans.
Next comes phase two of the Butte Fire debris removal operations, which are slated to begin, weather-permitting, sometime in late April or early May when CalRecycle crews will focus on an estimated ten sites with access issues.