Edson Shares Butte Fire Recovery Perspective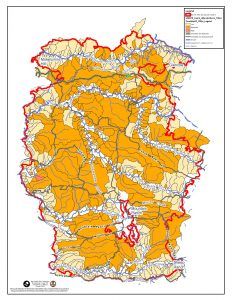 Butte Fire Preliminary 100-year Combined Hazard Map

View Photos
San Andreas, CA — A Calaveras supervisor is taking issue with some recent regional media coverage on the county's Butte Fire recovery efforts, and shares his perspective about the progress to date.
In an interview with Clarke Broadcasting, Board Chair Cliff Edson respectfully took exception to some television news coverage following last Tuesday's Calaveras County Board of Supervisors meeting, which reported that a "county backlog" was delaying the placement of FEMA temporary housing units for qualifying residents.
Edson also disputes another media-reported claim that clean up work on the Valley Fire is further ahead. His point is a valid one. As of early November, according to CalRecycle, of 1132 sites registered for Valley Fire debris removal, 550 have been documented; 765 have asbestos surveys completed; 138 parcels have debris removal completed; with 68 sites soil sampled but none yet approved.
Clean up By Comparison
CalRecycle reports that over roughly the same period, of 683 sites registered for Butte Fire debris removal assistance, 387 have been documented; 392 have asbestos surveys completed; 35 parcels have debris removal completed; 25 with soil samples collected; 13 with soil sample results approved.
"It's really important to not only inform the public but to make sure they understand the severity and challenges in this [recovery effort]," Edson emphasizes. The bottom line, he says, "It's just not as easy as people might think. What we do now is going to affect what happens in the future and a lot of it has to do with our groundwater, our erosion and all kinds of different things that could affect us in the future."
In response to a FEMA request for direction on where trailers could be placed within the burn areas, the board addressed the risk of debris flow impacts at its Nov. 3 meeting. According to county planning staff, FEMA officials had shared that the agency has not previously dealt with making as many temporary residential unit placements in such a steep and varied terrain area as the Butte Fire footprint. Edson estimates that between 50 and 60 FEMA units may be placed and that residents' insurance companies are helping to handle most of the actual temporary housing solutions.
Site-tailored Solutions 
County staff, in attempting to gauge the likelihood of winter floods or debris flows at any given site, indicated multiple variables and gauged USGS debris flow hazard determination maps and storm event recurrences to determine basic risk factors. Staff also maintained that as each site within the burn footprint is unique there could be no "one size fits all" approach. After much deliberation and consideration of USGS preliminary debris flow hazard assessment maps depicting 100-year, 50-year, 25-year and 10-year storm recurrence intervals, the board chose to adopt the most conservative, staff- recommended guidelines for placing the FEMA units.
These include using the 100-year map as a guideline; that FEMA may only make trailer placements on sites located in the low risk of debris flow areas; and that site specific analysis must first be made by a county-hired geologist contractor before any placements can be made in moderate to high risk areas. Edson stresses that including this step will not slow down the process. "We want to make sure that we are not going to place anybody…in any imminent danger if we have a hard rainfall," Edson says. "We will be pinpointing where the at risk properties are instead of looking at a map."
Edson adds, "It's hard for people to understand why, since they are out of their homes and they have been for quite some time — I don't blame them — I'm impatient, too, but I also know that we need to do everything we can…people are going to want to do what they want to do, and sometimes they don't see that whole 'big picture'…the landslide areas…the dangers involved because they are anxious to get back to where they want to go. I fully understand that. I also understand the county's side, where we want to make sure that they are safe."
'Lots of Moving Wheels'
Without making excuses, Edson shares simply, "This is a huge, huge catastrophe that I don't think anybody has experienced in California before. They call it the seventh worst in California history, but I have to tell you in combination with the land and the properties and the [number] of burned houses…it's a very unique situation with lots of moving wheels. Our goal is to to get our people back up in our neighborhoods as quickly as possible — there is no other goal."
With regard to the clean up crews, Edson estimates that each contracted crew unit generally includes 12 members and the average time spent on each impacted site is about 2.5 days. Current plans are to add perhaps six more crews to augment the current 20 now working within the footprint. He adds that one crew is being designated for FEMA unit placements so that installments can be completed as quickly as possible. While the increase will help hasten efforts, Edson points to additional impacts on the already stressed burn area roads. "That's a lot of trucks up in a little area…we don't want anyone to get hurt."
The debris removal personnel onsite make up only a portion of the overall current efforts, as Edson points out. Ahead of the winter rains, erosion control, road clean up, watershed management and public works units are also out and each addressing their own chores. He laughs out loud after being asked to venture a guesstimate of the total number of people involved. Incredulously recalling how the presence of 4,500 CalFire personnel during the firefighting phase increased the total county's population by ten percent, he finally retorts, "It's a big, big operation."