Official Makes Public Amends For Slur Against Mexicans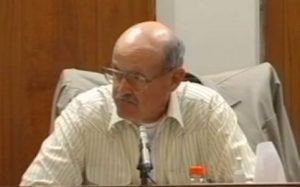 Calaveras County Planning Commissioner Kelly Wooster

View Photos
San Andreas, CA — Splashed across Northern California tv media outlets, a recent comment widely perceived as a slam against Mexicans was retracted Thursday by the local official who made it.
Today, at the Calaveras County Planning Commission meeting, District 4 Planning Commissioner Kelly Wooster attempted to qualify his reasons for uttering at the March 3 meeting what some thought was an insensitive crack. At the time, the commission, poring over general plan elements, discussed streamlining the phrase "invasive plant and animal species" to read "invasive species." About 1:03: 40 into the meeting footage (recorded by the Community Action Project & Calaveras Planning Coalition here) Wooster intimated that shortening the phrase would cover everything, "including people from Mexico."
Two days ago, a change.org petition to the Calaveras County Supervisors initiated by San Andreas resident Michael Magana (here) requesting they remove Wooster from the commission showed over 290 supporters as he was making his public amends. (As of Friday morning, at 10:30 the number read 522.)
At Thursday's meeting, right after the Pledge of Allegiance, Wooster was given the floor. Attempting to explain himself, he stated that his comment reflected negative experiences with Mexican cartel marijuana growers on his ranch — an invasive species who were here illegally — and that he did not mean to slur decent, talented and hardworking people of Mexican heritage. Then came his apology: "My remark was a very unfortunate choice of words — it never should have happened. So to those that I have offended and hurt, I do apologize."
Nearly a dozen people rose to make public comments over the next 20 minutes, many which urged public officials to do better, although a few maintained Wooster was merely being politically incorrect.
Board Chair Fawn McLaughlin went on record to take issue with Wooster's racial comment and agreed with some of the speakers that the board missed an opportunity by not addressing it as it was first uttered. She further stated, "Racism and prejudice, even though that is not what [Wooster's] intent was — just to be clear — has no home here in these chambers and will not be tolerated. Should this situation arise again…please be assured that I will speak out in a more timely manner."
Calaveras County government spokesperson Sharon Torrence subsequently released footage of today's meeting, including Wooster's apology and the public comments, which can be viewed by clicking here.