Forest Prescribe Burn Pushed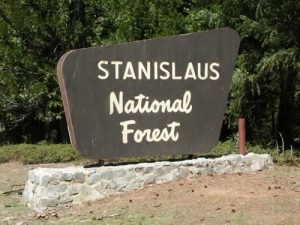 Stanislaus National Forest

View Photos
Sonora, CA – Nearly half of the piles have been burned in the Mi-Wok Ranger District for the South Fork Prescribe Burn project, but the rest will have to wait for at least another week if not longer, according to forest officials due to weather conditions.
As previously reported, forest officials had hoped to start the 186-acre burn on the Stanislaus National Forest last week along Forest Road 3N24, off Italian Bar Road (Forest Road 2N63) south of Deer Creek. Instead, it began Monday. Currently 85 acres have been completed. Forest spokesperson Rebecca Garcia explains, "It's being done in jackpot so there are piles naturally occurring and then also piles that they have created. So, they're burning those and they're allowing them to burn together to get the maximum amount of fuel off the ground."
The National Weather Service has forecasted wet weather through the weekend prompting forest officials to postpone the burning until conditions are more favorable, which Garcia indicates will likely be the end of March. That means residents in the area and motorists driving along Highway 108 may see smoke in the skies towards the end of the month.