Mele Provides Update On Twain Harte Burglaries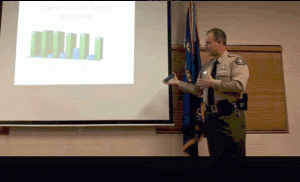 Sheriff Jim Mele Speaks In Twain Harte

View Photos
Twain Harte, CA — Tuolumne County Sheriff Jim Mele and others brought some positive news to the Twain Harte community, but also spoke about long-term concerns related to Proposition 47.
Residents packed into a town hall meeting held Wednesday night at the Twain Harte American Legion Hall. Mele was joined by other officials with the Sheriff's Office, and local CHP Commander Lt. Scott Clamp.
During the third quarter of 2015 there were 14 burglaries in Twain Harte and the fourth quarter saw 33. During an average quarter, there are between 8-13. Mele says, "We were able to report last night that we have made some recent arrests, and that with those arrests, we have seen a decrease in burglaries, not only in the Twain Harte area, but also across the county."
Mele says six burglary arrests were made, and there are five additional "people of interest."
Countywide, the amount of burglaries spiked during the second half of last year, with 137 in the third quarter and 135 during the fourth quarter.
While the recent arrests were positive developments, Mele expressed long-term concerns to the Twain Harte residents about the Proposition 47 ballot measure that was approved two years ago and has resulted in a reduction in penalties for several offenses, which he feels likely contributed to the increase.
Sheriff Mele says Wednesday's meeting was very productive and additional follow-up sessions will occur in Twain Harte.  There will be a meeting with the Twain Harte Chamber of Commerce, and a meeting in relation to setting up neighborhood watch programs.
Additional town hall meetings are being planned for other areas of the county.