EPA Features Tuolumne County In National Video About Drought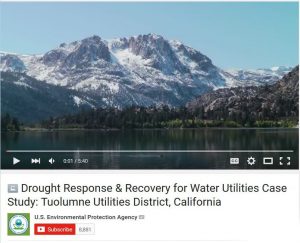 TUD featured in EPA video
Sonora, CA — The U.S. Environmental Protection Agency (EPA) just released a drought response video and outreach guide featuring Tuolumne Utilities District to help other water utilities nationwide combat drought issues.
The newly released video, featured in the upper left box, was filmed in November 2014.
David Travers, Director of the Water Security Division in the EPA Office of Water says "Recent droughts have affected operations at a large number of water utilities nationwide. With changing climate and shifting weather patterns, these drought impacts for water utilities are likely to continue for years to come." Travers notes, "In visiting Tuolumne Utilities District (TUD), EPA learned about how the utility and community were challenged by drought impacts, and how they were able to successfully respond to and recover from drought. Using these combined lessons learned, EPA has developed national guidance to help other water utilities become more resilient to drought,"
Lisa Westbrook, TUD Customer and Public Relations Coordinator notes the summer of 2014 was difficult and challenging, also stating, "The community came together and managed to achieve significant water conservation which was needed at the time. Many state and local agencies still talk about this great accomplishment."
The video describes how the TUD, through internal adjustments; coordination with community partners and state agencies, as well as regular communication with the public, improved their water supply outlook, exceeded their conservation goals, and are better prepared for the future. Other videos can be viewed on EPA's Drought Response and Recovery for Water Utilities Case Studies Geoplatform site: http://www.epa.gov/waterutilityresponse
Local filming locations for the Tuolumne video include TUD, Phoenix Lake, Lyons Reservoir and in Twain Harte near the Section 4 ditch. Community partners that assisted with the video production included:
Alvin Thoma, Director of Hydro Licensing – Pacific, Gas and Electric Company
Tom Trott, General Manager – Twain Harte Community Services District
Dore Bietz, Assistant Planner/Emergency Manager – Tuolumne Me-Wuk Tribal Council
Mark Luster, Community Relations Manager, SPI
Mike Spear, Fire Captain, CAL Fire
Tracie Riggs, OES Coordinator – County of Tuolumne
Richard Rauschmeier – Tuolumne County Master Gardeners
An earlier news story about the filming was posted on Nov 2014 here.