EPA Taps TUD For Drought Tips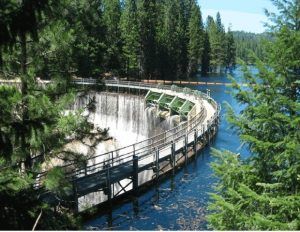 Lyons Dam Reservoir

View Photos
Sonora, CA – The U.S. Environmental Agency (EPA) is tapping Tuolumne Utilities District (TUD) to create a help guide that water utilities across the U.S. can use to tackle drought issues.
According to TUD General Manager Tom Scesa, a specialized crew of strategic planners, engineers, EPA coordinators and video producers will visit Sonora this week. As they begin building a drought resilience plan, the EPA will meet with TUD staff to discuss drought management plan best practices, operational changes made due to the drought, customer communications, and other related topics.
Surprised and pleased when the EPA reached out to TUD, Scesa learned it was apparently due to a presentation he made at a state water conference that an attending EPA official had heard. The EPA outreach guide project will also tap the knowledge of another water district in Texas, according to Scesa.
As Scesa explains, "I think that what makes us a little bit different than some of the agencies around the state is that we are very aware of our limited supply and how best to use it. What the EPA is looking for, from us, is to go over some basic guidelines. They have a large list of questions: how were we impacted, what we saw, what were our conditions — and then, how we prepared, planned, and…do our work to get ready for [it]."
On Wednesday and Thursday, film crews will record site visits to Pinecrest Lake, Lyons Reservoir and the Twain Harte Section 4 ditch.
Several TUD community partners agreed to video interview with the crew. These partners include PG&E Director of Hydro Licensing Alvin Thoma; Twain Harte Community Services District General Manager Tom Trott; Assistant Planner and Emergency Manager of the Tuolumne Me-Wuk Tribal Council Dore Bietz; Tuolumne County/Cal Fire Division Chief Paul Avila; Sierra Pacific Industries Community Relations Manager Mark Luster; Office of Emergency Services-Tuolumne County Coordinator Tracie Riggs; and Tuolumne County Master Gardener Richard Rauschmeier.
EPA's current plans are to have the outreach video and plan ready for use by the summer of 2015.