Encouraging Local Precipitation Levels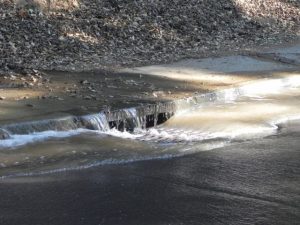 Water Running Into Storm Drain

View Photos
Sonora, CA — As another winter storm is heading to the region this weekend, the precipitation amount already recorded this season in the Mother Lode has been very strong.
According to T.U.D. District Engineer Erik Johnson, 21 inches of rainfall has been recorded this season at the district's wastewater plant in Sonora. The average for this time of year is around 15 inches. When looking at the snowfall, he adds that there is 18 inches of water content at the lower relief valley station, up over 8,000 ft., which is right around average.  Johnson adds, "We're doing quite well. Lyons and Pinecrest will 'fill and spill' this year, and we are in a much better place than this time last year."
We reported earlier this week that the snowfall across the Sierra Nevada is around 115% of average, according to state electronic sensors. It is the highest reading for this time of the year in the past five years. The next manual reading in the Sierra Nevada will come February 2nd.
Meanwhile New Melones Reservoir is still trying to catch up from four years of drought. It is only at 16% of capacity and 26% of the historical average. Don Pedro Reservoir is at 39% of capacity and 58% of the historical average.