Closures In Honor Of Martin Luther King Jr. Holiday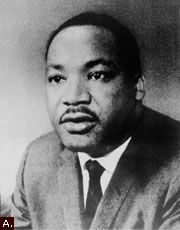 Martin Luther King Jr.

View Photos
Sonora, CA — Most government offices are closed today in honor of the Martin Luther King Jr. holiday.
City hall and county government offices in the Mother Lode are closed, but law enforcement and emergency services are still running as usual.  Banks are closed, and there is no school.  Yosemite National Park is open today, and there is free entrance in honor of Martin Luther King Jr.
Also of note, the annual Mother Lode Martin Luther King Jr. celebration will be this Sunday, January 24, at 2:30pm in the Sonora High School Auditorium. This year's guest speaker will be Jim Hightower. There is free admission.
Governor Jerry Brown has issued a state of California proclamation in honor of Martin Luther King Jr. Day. You can read it below:
Martin Luther King, Jr. had a dream, a dream we can still see vividly when we revisit the most famous of his many timeless speeches. His vision of a world free of hatred and injustice has changed the face of American society and continues to inspire people around the world. What gave Dr. King's dream such force was his steadfast commitment to confront his enemies without violence and to love those who hated him, knowing that hatred only begets hatred, and violence always fans the flames of injustice.
On this 87th anniversary of his birth, let us reflect on his words and vision, and consider what each of us can do today to help keep his dream alive. Many opportunities to serve our communities can be found at CaliforniaVolunteers.org.