County Counsel Responds To Dollar General's Lack Of Appeal Fee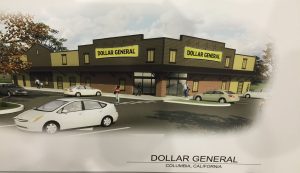 Columbia Dollar General Artist Rendering

View Photos
Sonora, CA — After reviewing the matter of Cross Development's failure to pay an appeal fee related to the Columbia Dollar General proposal, County Counsel Sarah Carrillo feels the board should proceed with next month's planned public hearing.
We reported earlier this month that community member Sharon Marovich raised concerns about Cross Development not paying the $154 fee required to appeal a planning commission decision. A memo sent today from Carrillo to the Board of Supervisors notes that the appeal fee was initially passed in 1995. It adds that Community Resources Agency Director Bev Shane says during original discussion of the appeal fee the Board directed that it not apply to applicants, as the Board considered such costs to be included in the application fee. Carrillo's memo states, "Unfortunately, the Board minutes do not provide any details of the content of the Board discussion. However, since the adoption of the appeal fee in 1995, county staff has followed this Board direction and not required the fee from applicants appealing a Planning Commission decision."
An e-mail was sent from a county planner to Cross Development on December 21st.  The county planner outlined the appeal process, and stated, "I have also confirmed that there is no fee for an applicants' appeal request."
Later in Carrillo's memo it was noted that Cross Development paid the county $1,125 for the rental of the Church of the 49er Faith Hall for the December Planning Commission meeting. On December 23, the church refunded $725 of the money for the cleaning deposit ($300), not needing a second night ($400) and the key deposit ($25). The county still retains those funds, well over the $154, and the money can be applied to the appeal fee.
Carrillo's memo concluded, "Given the fact the County retains sufficient Cross Development funds to cover the appeal fee, it is the opinion of my Office that the failure to require a separate appeal fee payment amounts to harmless error. I recommend your Board proceed with the Cross Development appeal of the Planning Commission's decision."
Moving forward, however, Carrillo indicates it was ill advised of the Supervisors in 1995 to direct staff not to collect the fee from applicants, and is advising that the county collect it from either party, here forward, unless changes are made to the county's ordinance codes.