Tuolumne County Resident Upset Over Roadside Trash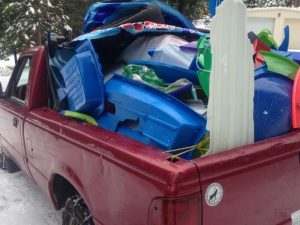 Picked Up Trash

View Photos
Nick Gauthier was raised in Tuolumne County. For the past eight years, his job has kept him driving up and down Highway 108. He says that he has never witnessed the heavy amount of roadside trash that he has seen over the past week, between Sierra Village and Little Sweden.
Gauthier was Thursday's KVML "Newsmaker of the Day".
This past Monday morning, Gauthier saw an ugly contrast of pure white snow and newly thrown trash lining the shoulders of Highway 108. Gauthier told his boss that he would take a couple hours off of work so that he could go pick up the trash.
Starting at Lyons Dam and continuing all the way to Little Sweden, Gauthier spent nearly three hours throwing piles of discarded trash into his pickup bed.
Gauthier said that acted on his own the entire time and despite walking past numerous people and cars parked along the route, no one gave him a hand as he picked up individual beer cans, soda cans, hard liquor bottles, pieces of plastic sleds and an estimated two hundred water bottles.
As a resident, Gauthier has never seen the number of cars parked along the side of the highway, that he has seen every day this week.
"I plan on doing this again. The trash has been piling up all over again, since I picked it up on Monday," said Gauthier. "I'm proud of Tuolumne County and this has struck a nerve. I don't want to see piles of trash lining Highway 108."
When asked if the polluters were visitors from outside of Tuolumne County, Gauthier said, "I can't say that every person is, but what I'm telling people is that if this was a bunch of locals, then why aren't we seeing piles of roadside trash in places frequented by people who live here?"
Other than acting on his own, Gauthier wants people parking on the sides of Highway 108 to use common sense and put every single item back into their vehicle that they took out.
Gauthier would also like to see more law enforcement.
"There are signs along the road that read '$1000 fine for littering'. That is the law. So what I'm picking up is what should have been lot of money in fines," Gauthier concluded.
The "Newsmaker of the Day" is heard every weekday morning on AM 1450 KVML at 6:45, 7:45 and 8:45 AM.