SHS Ready For Stadium Improvements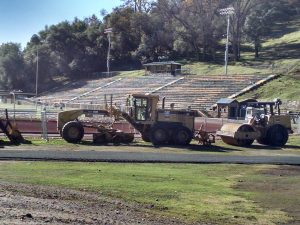 Preparing For Construction At SHS

View Photos
Sonora, CA — Now that the football season has come to a close, Sonora High School will begin planned renovations to the field, track and surrounding stadium.
Principal Ben Howell reports that major ground work should commence next week. Crews will start by fencing off the perimeter and prepping the grounds for the work. Once the fencing is in place the stadium will be off limits to students and community members until the completion of construction, which will come in mid-2016. It is noted that the closed area will include the grandstands and the "S" hill.
The track is often a popular place for runners and walkers during off hours, and that will come to end during construction.
Howell says plans are in the works to establish a "legacy of care and proper use" so that the facility will continue to be an asset well into the future.
The stadium improvements are part of "phase 2" of the Measure J bond projects. It includes installing a new track, a bridge over Woods Creek near the band room, a new score board, ADA upgrades, additional utility work, etc. Phase 2 improvements to the cafeteria are already underway. The stadium work, however, was briefly postponed due to the extended football season..
Upon completion, work will begin on the new aquatics center. The project is estimated to cost around $7.2-million, well above the initial estimate of 4.6-million. District officials claim the increased cost is due interest and construction costs increasing over a two year span that the project was held up by a legal fight.