GOP: We Must Strengthen Our Visa-Waiver Program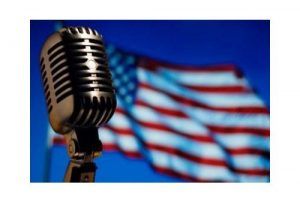 Microphone and US Flag

View Photos
Rep. Candice Miller (R-MI) delivered the Republican address this week, talking about strengthening the visa-waiver program in wake of the deadly terror attacks in San Bernardino, California.
Miller was Tuesday's KVML "Newsmaker of the Day". Here are her words:
"The next terrorist to attack our country could be only one flight away. And that's why the House is preparing to act on legislation to prevent our enemies from entering this country through our visa-waiver program.
The point of this program is to make it easier for people from other friendly countries to visit the United States. If you are a citizen of a participating country, you can come here for up to 90 days without a visa. That means you don't have to do an in-person interview at a U.S. embassy. There are 38 participating countries. And all of them are good friends of America: countries like Britain, France, Germany, and Belgium. The program promotes tourism to the United States and it helps to create jobs for Americans.
That all being said, it is no secret that ISIS is recruiting people from many of these same countries. For instance, the suspected mastermind of the attacks in Paris was a citizen of Belgium. The Department of Homeland Security checks all visa applicants against our terrorism databases. But other countries often don't give us all of the information that we need to identify possible threats. The gunman who tried to overrun a Paris-bound train in August is really a prime example. European authorities had been watching him for some time. But they never alerted the United States.
And in its report to Congress, the 9/11 Commission said that "for terrorists, travel documents are as important as weapons." I couldn't agree more. We simply can't give people from other countries special access to our soil if we don't have all of the information that we need to make sure that they're not a threat.
That's why I'm working with my colleagues on a bill to strengthen the security of our visa-waiver program. Our legislation would allow the Department of Homeland Security to suspend a country's participation in the program if it does not give us the information that we need to stop terrorists from coming here. The bill would also disqualify anyone who has traveled to Syria or Iraq within the past five years from participating in our program. And from now on, they will have to get a visa and go through all of the additional security steps that it requires. Finally, the bill strengthens our counterterrorism efforts by codifying the department's new practice of collecting more biographical data before an applicant can travel into the United States visa-free.
And as Americans, we live in a free and open society, and terrorists are looking for any and every opportunity to exploit those freedoms and use them against us, so we need to think clearly. And clearly, we have a major weakness in our visa-waiver program—a glaring hole that we have to close. The members of ISIS will use every means within their power to attack our country. And that's why we have to use every mean within our power to defend it. We cannot afford to wait. We must act now. Thank you."
The "Newsmaker of the Day" is heard every weekday morning on AM 1450 KVML at 6:45, 7:45 and 8:45 AM.