Update: Sonora Police Investigated Suspicious Package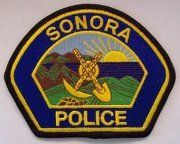 Sonora Police Seal

View Photos
Update at 10:25am: Sonora Police Chief Mark Stinson tells Clarke Broadcasting his department does not believe yesterday's various incidents around the area are connected. There was a suspicious package found at the county's IT building on Morningstar Drive, and a robbery at the Wells Fargo Bank on Mono Way. Both of those incidents are being investigated by the Sonora PD.  There was also a bomb threat called in to Black Oak Casino Resort which is being investigated by the Tuolumne County Sheriff's Office.
Original story posted at 8:25am: Sonora, CA — Around the time there was a robbery at Wells Fargo in Sonora, and a bomb threat at the Black Oak Casino, the Sonora Police Department also investigated a suspicious package outside the Tuolumne County IT building on Morningstar Drive.
This report was called into the PD at 4:26pm yesterday, when all available officers were involved in the robbery investigation at Wells Fargo on Mono Way. The package in question was addressed to the "Tuolumne County Sheriff's Department," and it was deemed suspicious in nature by the staff inside the building, and officers who arrived on scene. The IT building was evacuated as a precaution, and the Calaveras County Bomb Unit was requested to assist. At around 7:30pm the Bomb Unit determined the package was a "non-explosive threat." The Police Department reports that the investigation into the matter is ongoing.