Update: Black Oak Casino Evacuation Over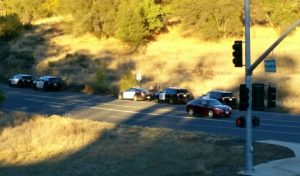 Police activity near Black Oak Casino due to potential bomb threat, Nov.16, 2015

View Photos
Update: 5:33pm:
Tuolumne County Sheriff's Office spokesperson Deputy Rob Lyons reports that the department cancelled the bomb threat at Black Oak Casino Resort just a couple of minutes ago after repeated searches turned up nothing.
General Manager Ron Patel states, "We were informed of the threat about 60 to 90 minutes ago.  We did a sweep of the building and the casino — we do it as a precautionary measure, and then we evacuated the building and swept the building." At 5:20, he adds, staff were allowed in to prepare for guests, and that he expected operations to restore to normal before 6 p.m.
"Everything else is under investigation, but at the moment our primary concern is the safety of our team members and our staff and our guests."
Original Post 5:16pm: Tuolumne, CA — There is quite a bit of law enforcement and fire department activity at Black Oak Casino Resort due to a potential bomb threat.
Tuolumne County Sheriff's Dept. spokesperson Sgt. Deborah Moss states that sometime around 3:30 p.m. an unknown female called in the threat.
General Manager Ron Patel, on scene, states that no one is in immediate danger whatsoever. As part of its protocol, the casino building has been evacuated and a second building check has just been performed. The hotel has not been evacuated. Multiple units are on scene from the Tuolumne County and Calaveras County Sheriff's offices as well as Cal Fire and a haz mat set up has been staged at Tuolumne Market. Sheriff's spokesperson Deputy Rob Lyons asks for the public to avoid the area for now. We will keep you posted.
Clarke Broadcasting thanks Community New Partner Carolyn Van Bolt for the image.