Vets Get Designated License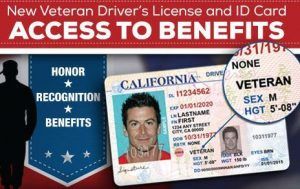 Califronia Veteran's License

View Photos
Sacramento, CA – Veterans designated as such on their California driver's license could receive federal benefits and along with that a boost to the state's economy.
Passed last year, Assembly Bill 935 by Democrat Assemblymember Jim Frazier takes effect on Wednesday, Nov. 11, which is Veterans Day. It allows military service members to apply for a driver's license or identification card with a "Veteran" designation. "With the growing population of veterans returning to California, it is our responsibility to help make sure they are well-equipped to integrate back into civilian life," says Frazier. He adds, "Assembly Bill 935 helps us fulfill that pledge to our veterans. Proof of military service is now literally at the individual's fingertips, which will help ensure that California veterans are receiving all the benefits and services they're rightfully entitled to."
Frazier acknowledges not having proof of military service is one of the biggest obstacles facing veterans when trying to access resources, benefits, and services. Additionally, there are about one million veterans unaccounted for and not receiving benefits, according to veteran advocacy groups. Frazier explains, "That means California can potentially bring in an additional $750 million in direct federal benefits annually to our veterans and our economy."
One note there is a $5 fee for your "Veteran" designation. For more details on how get the license click here.