Deal Squeezes More Water For Ebbetts Pass Customers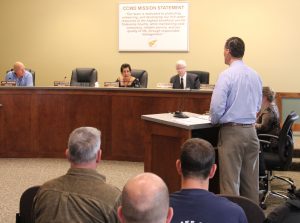 CCWD General Manager Dave Eggerton presents the water service agreement with Blue Lake Springs Mutual Water Company to the CCWD Board of Directors Wednesday as BLSMWC staff and board members look on from the audience.

View Photos
San Andreas, CA — Despite some "ups and downs," a Mother Lode water district and independent water company finally agreed to a new deal to benefit Ebbetts Pass area customers.
Wednesday, the Calaveras County Water District (CCWD) and Blue Lake Springs Mutual Water Company (BLSMWC) boards hammered out an agreement for the district to provide supplemental wholesale water to the company's drought-stressed supply.
The company has been in ongoing negotiations to purchase CCWD water after the past few years of extended well exploration to develop a redundant water delivery system proved unsuccessful. Over 2,000 Ebbetts Pass area customers served by the company, currently supplied by wells at White Pines Lake near Arnold, have been on CCWD water on and off, as recently as two years back. With infastructure in place, all that was needed was to come to terms on a buy-in cost and a monthly consumption fee.
"On behalf of Blue Lake Springs, I'm pleased we were able to work out an agreement with CCWD, states Dave Hicks, BLSMWC general manager. "Like all negotiations, they have their ups and downs, but we always had the clear idea that we would eventually come to an agreement and I'm very happy that we did."
According to Dave Eggerton, CCWD general manager, the deal will dramatically improve the reliability of water supplies for Blue Lake Springs area customers by augmenting its existing groundwater resources with up to 100,000 gallons per day of treated wholesale water from CCWD during critical summer months as well as for fire flows, if necessary. The agreement also lines out what the parties are calling "a clear road map" if Blue Lake Springs decides to purchase more CCWD water supplies in the future.
CCWD spokesperson Joel Metzger adds that the initial buy in payment from Blue Lake Springs is $600,000 toward a one-time capacity charge, which will leave a remaining $225,000 owed that will be paid to CCWD no later than May 1 of 2016.
Metzger also points out that in addition to making water available in the critical summer months between May and September, CCWD is also offering to sell as much water as Blue Lake Springs wants to purchase during the rest of the year. He says that buying CCWD water during the off-peak months will help enable Blue Lake Springs to let its wells rest and recharge.