Lucero Gets 50 Years To Life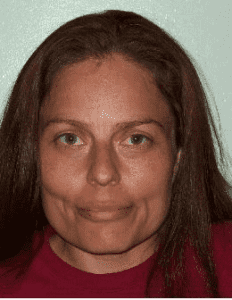 Cheryl Lucero

View Photos
Sonora, CA – Tuolumne County's District Attorney Laura Krieg called it a case of "fatal attraction" that ended in cold blood by Cheryl Lucero's hand.
As reported in September, the 46-year-old Lucero of Twain Harte was found guilty of shooting 49-year-old Rick Roberts to death on February 16, 2014 in his auto body shop on Mono Way in Sonora. Lucero learned her fate in a Tuolumne County Superior Courtroom today as Judge James Boscoe handed down the 50-year to life sentence, which included 25 years each for murder and use of a firearm. D.A. Krieg believes justice was served and had this reaction to the sentence, "I think the sentence is absolutely deserved. She killed Rick Roberts in cold blood…There is nothing that is going to bring Roberts back to his loving family…basically Lucero will have to live with this for the rest of her life."
Additionally, D.A. Krieg released this statement after the sentencing:
"Tuolumne County District Attorney Laura Krieg announced today that Cheryl Lucero, 46, of Twain Harte, was sentenced by Tuolumne County Superior Court Judge James Boscoe, to fifty years to life for the murder of life long Tuolumne County resident Rick Roberts. On February 16, 2014, Rick Roberts was found shot to death in a shop he rented on Mono Way. The Sonora Police Department responded to the crime scene and conducted the investigation. On June 18, 2014, Cheryl Lucero was arrested after confessing to detectives that she had shot and killed Rick Roberts. At her arraignment in the Tuolumne County Superior Court on June 20, 2014, Lucero entered a plea of not guilty.
Investigation of the crime scene showed that Mr. Roberts had been shot twice. One bullet went through his chest and into the heart, and another bullet grazed his shoulder. Despite the evidence of 2 shots at the scene, only one bullet casing was located. The bullet casing collected at the crime scene was forensically analyzed by the Department of Justice Crime Lab. This analysis was able to narrow down the type of firearm that was used to 3 manufacturers, including a Heckler and Koch firearm. It was also determined that the firearm was a 9 m.m. handgun.
Lead detective Jerry McCaig pulled the names of all registered 9 m.m. firearm owners in Tuolumne County. He noticed that the Cheryl Lucero had recently purchased a 9 m.m. Heckler and Koch handgun the month prior to the homicide. Detective McCaig also recognized Lucero's name because Rick Roberts, a Sonora Police Department volunteer, had reported her as a stalker approximately six months prior to his death. Evidence showed that Rick Roberts and Lucero had engaged in an affair, but that Roberts had ended it in 2012.
Detective McCaig contacted Cheryl Lucero and asked her to bring her gun in for testing in March of 2014. Lucero never brought in the firearm. Detective McCaig followed up with her and she again agreed that she would bring in her firearm for testing but never did. In June of 2014, a search warrant was served at the home where she was living. The firearm was never located, however, the detectives did locate the test fire envelope containing the original casing fired from her gun by the manufacturer, as well as, an additional casing matching the one located at the crime scene. Lucero later admitted that the second casing in the test fire envelope was the missing casing from the crime scene. A search warrant was also served at Lucero's storage unit where numerous pictures of Rick Roberts were located, as well as, a hand written wedding announcement that Lucero had created.
On August 10, 2015, jury selection began. Ultimately the jury consisting of 8 women and 4 men was selected and sworn in on August 17, 2015. Opening statements began on August 18, 2015. District Attorney Laura Krieg called 28 witnesses for the prosecution's case and admitted well over 100 exhibits throughout the course of the trial, including the entire video-taped interview of Lucero when she confessed to detectives. Krieg argued that the defendant had become totally and absolutely obsessed with Rick Roberts and had told several people that "God" meant for them to be together.
During the trial, the defendant testified that she did not kill Rick Roberts and did not know who did. The defense also put on an expert witness regarding false confessions. The jury heard closing arguments on September 2, 2015, and began deliberations on September 3, 2015. On the afternoon of September 4, 2015, the jury returned a verdict of Guilty of First Degree Murder and Found the Allegation True that Lucero had used a firearm in the commission of the crime.
Lucero will not be eligible for parole until serving 50 years of her sentence, unless the Board of Parole considers her for elder parole after she serves 25 years."