Showcasing Sonora High School's Great Students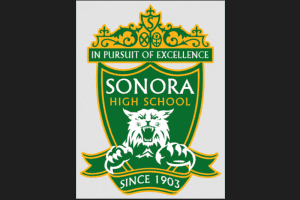 Sonora High School logo

View Photos
A local photographer is directly taking on Sonora High School's negative attention as of late, by focusing on and showcasing the numerous good students.
Jennifer Rapoza was Wednesday's KVML "Newsmaker of the Day".
Rapoza is a graduate of Sonora High School and has been involved with the school for numerous years. Her entire family, which includes her husband and children, are all alumni of Sonora High School.
Last year a Sonora High student was bullied. A few weeks ago the same student received a death threat on the campus. November update here. Meanwhile four students at Summerville High School were arrested for plotting a mass shooting.
Rapoza joined a current student at Sonora High to take a stand and find the good in both the Sonora High School and the community.
The student, a senior at Sonora High School, adopted the campaign as her senior project in order to find fellow students who are making a positive impact and who are not receiving the types of headlines that negative attention often tends to draw.
Rapoza and the student would like to change that and both are joining the national photography movement, Beauty Revived, in order to make this happen.
Beauty Revived is a movement that celebrates and features people who show attributes of real beauty. Photographers donate sessions to these people (male and female) and their stories are featured on the website www.BeautyRevived.com and in a quarterly print magazine.
The high school Beauty Revived campaign encourages students to nominate other students who exemplify real, inner beauty for a free photo session and the chance to be in a national magazine and awarded scholarships.
Rapoza wants to expose high school students to the idea of inner beauty which includes being kind, caring and beautiful on the inside.
After such negative national attention, Rapoza hopes that this campaign will help in the healing process of her community.
According to Rapoza, "This campaign will help Sonora by showing the students and the community that beauty is not skin deep and that there are numerous students that have generous and caring qualities that need to be recognized".
Rapoza will be donating a photography session to one of the nominees.
"I hope that this campaign will cause the students and staff of Sonora High School to take a close look at those seniors around them who are doing good," Rapoza said. "So much attention and emphasis lately has been on the negative of teens in our area. I hope to turn the table so that the community can see that there truly is good here still."
Students, teachers and community members are able to submit their nominations to Rapoza through Friday October 30th. The chosen nominees will be announced on November 2nd at www.JenniferRapozaPhotography.com .
Update: Gabriella Timmins chosen and she was featured in the Beauty Revived "Most Beautiful H.S. Seniors" publication. She is also eligible for the $3,500.00 scholarship.
To find out more information about Beauty Revived, visit www.BeautyRevived.com or call (209) 613-4476.
The "Newsmaker of the Day" is heard every weekday morning on AM 1450 KVML at 6:45, 7:45 and 8:45 AM.