Some Support For Potential House Speaker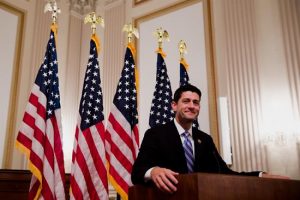 Paul Ryan

View Photos
An informal myMotherLode poll asked about Paul Ryan as House Speaker. In support, less than half, 48% said "good choice." The remaining 52% was evenly split between bad choice and no opinion.
Wisconsin Rep. Paul Ryan, the 2012 Republican vice presidential nominee, is currently the House Ways and Means Committee chairman. He says he has secured support from all factions of the House GOP, including the Freedom Caucus and he will accept the position if Republicans for him on October 28.
The Speaker of the House position is currently held by Speaker John Boehner who was re-elected by the House on January 6, 2015 to serve a third term as Speaker for the 114th Congress ending January 3rd 2017. Boehner announced September 25 he will step down from his position.  In his resignation speech Boehner suggested Representative Kevin McCarthy "would make an excellent Speaker." Before McCarthy dropped out of the speaker's race on October 8th, Paul Ryan also supported McCarthy for the position.
The Associated Press notes awaiting the next House Speaker will be a mess of trouble. On November 3 is another deadline to raise the federal borrowing limit or face default, and December 11 is the deadline to act on must-pass spending legislation or face a government shutdown.
In addition to seeking united support from the caucus as a condition for his candidacy, Ryan made clear he wants flexibility to spend time with his wife and kids in Wisconsin. At 45 he is younger than most past speakers and rare in having young kids (Boehner is a grandfather) Ryan will bring generational change to the speaker's chair.
Rep Ryan says in his bid for Speaker, "The challenges we face today are too difficult and demanding for us to turn our backs and walk away.  Global terror . . . wars on multiple fronts . . . a government grown unaccountable, unconstitutional, and out-of-touch . . . persistent poverty, a sluggish economy, flat wages, and a sky-rocketing debt.'
…It's not too late to save the American idea, but we are running out of time.
"Make no mistake: I believe that the ideas and principles of results-driven, common-sense conservatism are the keys to a better tomorrow—a tomorrow in which all of God's children will be better off than they are today. – Read the full statement here.
Update: Paul Ryan became the 54th speaker of the House with 236 of the 432 votes cast for Speaker. Nine GOP representatives voted for Florida Republican Rep. Daniel Webster.