TUD On Task To Take Out Drought-killed Trees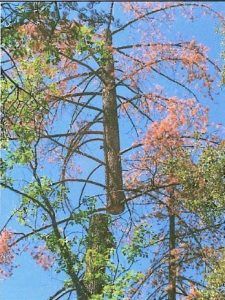 Tree Removal

View Photos
Tuolumne, CA — An increasing concern throughout the state and certainly in the Sierras, tree death was a top topic in a local water district's meeting on Tuesday.
In its monthly report, the Tuolumne Utilities District (TUD) staff has identified 485 dead and dying trees due to drought-related causes, including bark beetle infestation. A more detailed presentation on the issue by Operations Manager Don Perkins reveals that over 400 trees now impact TUD's ditches in Section 4, Upper and Lower Soulsbyville, Upper Columbia and Eureka. To date, the district has had eight trees in Section 4 removed at a cost of $900. Dead trees are also an issue at seven TUD facilities, according to the presentation. Of 125 trees around the Twain Harte WWTP, 99 were removed at a cost of $6,740; of 10 at Tuolumne WTP, nine were removed for $3,500; one near the Michigan Tanks was removed for $500. Several other trees were identified near Rainbow Reservoir, Cedar Ridge WTP, CR Upper Tanks, and Phoenix.
"We've identified the location of the current trees [impacted]…we've also identified the property owners associated with the trees, so we're sort of at the starting point right now," stated interim TUD General Manager Dave Andres. He pointed out, "This is not a one-year operation — there might be 800 trees next year, if we continue the drought — and even if we don't, you might have to continue to harvest over the next five years to keep the ditch safe. So, there's a lot of issues that have to be worked out."
GPS mapping by staff of impacted trees in all the water district's ditches and other key areas will allow personnel to prioritize, track progress and work with adjacent landowners. Related in-meeting discussion on the formidable related tasks ahead ranged from TUD exercising its right to do maintenance and remove trees affecting its facilities, to navigating multiple related and complex issues. Along with removal, these include obtaining property owners' consent over access for equipment; potential need for timber agreements if trees are being harvested; and possible CEQA implications. It was noted that the cost per tree, to date, for felling and removal has averaged the surprisingly low price of $125, but only because the timber had salvage value and was taken to a mill.
As common-sense next steps, Perkins recommended continuing to partner with the county. As previously reported, the Tuolumne County board of supervisors has already declared a local state of emergency over the tree mortality issue and recently requested Governor Jerry Brown's assistance in marshaling state and federal assistance as well as resources for removal operations.
Actions, Reports Of Note
As Andres' contract as interim general manager expires on Oct. 30, ahead of the scheduled start of Thomas Haglund, recently hired as his permanent replacement (as previously reported), the board unanimously voted to extend it. Under the agreement, Andres will continue as a consultant through Jan. 31, 2016, as needed; his compensation set at $95/hour with a cap of $15,000.
Among its consent agenda items, the board approved calling a special board workshop meeting Thursday, Oct. 29, at 2 p.m. to review and discuss a water and sewer rate study in further detail, ahead of a likely increase. Due to the extra session, the board also opted to cancel its Dec. 22 regular meeting.
In its monthly operations report, staff noted that ditch tenders and seasonal employees are performing maintenance and repairs as the PG&E main canal outage, which began Monday at midnight, continues through Oct. 19.
In another finding, shared in the monthly update, treated water production in September was down 32 percent from the same time in 2013 and the drought continues to challenge the district's ability to stay in compliance with one of the Safe Drinking Water Acts (SDWA) regulations that have to do with acceptable levels of disinfection by-products (DBPs). In commenting on the report, which was pulled to receive additional edits before getting a final approval, the board and staff discussed flushing as probably the district's best option to maintain water quality, if it becomes an issue, as ultraviolet technology, which staff has also been investigating, would cost several hundred thousand dollars per site.
Other Board Business
Also formally adopted was a resolution approving an agreement in the amount of nearly $1,320,000, from Community Development Block Grant Funds with NorCal Pipeline Services, Inc. to execute the Gibbs Sewer Collection Improvements Project. The work scope includes rehabilitating 15,560 linear feet of sewer main; removal and replacement of about 485 linear feet of existing pipe; construction of 20 new manholes as well as modification and repair of about 40 existing manholes.
The board also rubberstamped the staff recommendation to deny a claim seeking $6,700 in damages due to an Aug. 13 hydrant leak on North Shepherd St. by TUD customer Bettizane Smith. On her claim, Smith noted the incident as a water main break and indicated it was the third time in the past ten years that a breakage occurred, the last being in the fall of 2009. An attached SDRMA (Special District Risk Management Authority) report, made on the behalf of TUD, confirmed a hydrant line rupture; action steps taken by TUD crews to clear debris and clean up; and made a minimal damage assessment. In its listed findings, the report also noted there are many City of Sonora-owned and maintained hydrants in the area, which has a history of water pipe disrepair.
Two items were pulled from the regular agenda until the new general manager comes on board in November, so that he may weigh in. They pertained to authorizing the investment of up to $2 million in FDIC insured certificates of despite between now through the end of the 2016 fiscal-year through Cantella & Company; and approving a job reclassification for the human resources/safety coordinator position.