Supes Support Serious Measures To Address Dying Trees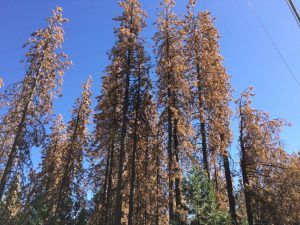 200 trees to be removed due to Bark Beetles Leisure Drive Sugar Pine

View Photos
Sonora, CA — A stack of letters now headed from the Mother Lode to the governor and others formally requests support of a statewide emergency due to pervasive tree death.
At its Tuesday meeting the Tuolumne County Board of Supervisors unanimously extended the local drought state of emergency that has been in effect since Feb. 2014 and also upped the ante on the local state of emergency due to pervasive tree death that it proclaimed at its Sept. 15 session. For the past two weeks, county staff has been busily communicating with individuals, nonprofits, state agencies and private businesses impacted by tree mortality issues and working to assemble a multi-agency task force, according to County Administrator Craig Pedro and OES Coordinator Tracie Riggs.  Without providing much further on the way of details, Pedro indicated that Pacific Ultrapower Chinese station had submitted a proposal to assist with dead and dying trees and other entities are also working on solutions and alternatives.
As dealing with the Butte Fire has recently left key task force members from Cal Fire and the US Forest Service with zero bandwidth to help put together a coordinated approach with proper financing and forester staffing, Pedro commented to the supervisors, "I am just talking about parts and pieces but as soon as we get people back available, we will get on it…we are getting a lot of phone calls, as I know you undoubtedly are from constituents, and we know we want to put [together] an operational plan to address this stuff, head on."
In its letter to Governor Jerry Brown, the board states that tree mortality has become a primary concern for those who live and work in Central and Southern Sierra Nevada region. In requesting him to proclaim a state of emergency to help free up financial assistance from the state and federal agencies, the board additionally asks that his office assist with the coordination of resources, such as Civilian Conservation Corps (CCC) and prison inmate crews, and furthermore waive state regulations that would hinder response and recovery actions. On July 31, when the governor declared a state emergency due to wildfires, he noted in his own findings the deaths of more than 13 million trees from drought and bark beetle.
The board authorized sending several other letters seeking support for a state emergency declaration from the Mother Lode's state and national legislators as well as Fresno, Madera and Mariposa counties, which already have similar local emergencies in place.
Currently, the estimated tree kill rate in Tuolumne County is 30 to 40 percent and climbing as incidents of trees falling on structures as well as impacting transportation and infrastructure are also on the rise. District 5 Supervisor Karl Rodefer articulated, "The magnitude of the tree mortality problem in the region is such that, this county, in and of itself, is never going to solve it. " he further called for Caltrans to step up to address mortality issues in proximity to the highways under its jurisdiction and utilities to protect their assets. "Our focus needs to be on those areas that we are responsible for and to coordinate with those other agencies and make sure they are doing their part as well," he stated.
Also weighing in on the immensity, both of the problem and related potential costs, District 2 Supervisor Randy Hanvelt commented "It's not cheap," after sharing a recent conversation with a tree faller who said in taking down 20 trees for someone, he charged $30,000 for the work. For private landowners who cannot afford the costs in areas where the trees present a hazard, Hanvelt pointed out that some kind of assistance will be necessary. Unfortunately, he added, due to the increasing number of dying trees, "We're going to have to pick and choose."