Previewing Jamestown's New 'Walk Of Fame'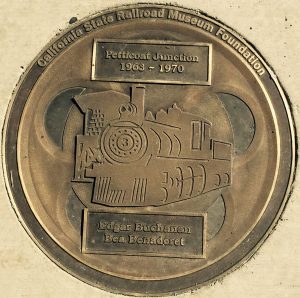 One of the Jamestown Walk of Fame Medallions
Jamestown, CA — Saturday it will be "lights, camera…action!" for a Mother Lode historic district, as it dedicates a new draw that celebrates the region's rich film industry history.
A stylish well-illustrated kiosk located adjacent to downtown Rocca Park outlines Tuolumne County's colorful movie and TV film heritage and provides a central starting point for Jamestown's new "Walk of Fame" attraction. There, visitors can read a pithy historical overview and view a directory-style listing of top productions that were locally filmed. Thirty of these have additionally have been immortalized on bronze medallion discs and set along an easy-to-navigate walkway that leads from there to the Railtown 1897 State Historic Park, a few minutes away. The sidewalk offers plenty of room to expand upon the installation and plans are, over time, to add many more medallions.
So says local businessman Jim O'Neil, a spokesperson for the Jamestown Promotion Club who also chaired the committee for its latest downtown improvement project. He shares that the "Walk of Fame" concept has been about ten years in the making and a dream finally come true for him.
"When you talk about movies here, 'Back to the Future [3]' just stands out. It was one of the great movies made in this county, but there were so many more great movies that were made here," O'Neil enthuses. He recalls the Academy Award-winning "High Noon," and "Conflict," starring John Wayne, made locally back in 1936, before rattling off a half-dozen more. The Mother Lode was the backdrop for a score of classic TV shows, too, he points out, from "Petticoat Junction" to "Little House On The Prairie."
Along with support from Tuolumne County and Railtown, several other organizations helped foster the new "Walk" along, including the Sonora Lions and Rotary clubs and Sonora Area Foundation. The installation was funded with about $40,000 in private donations. By sometime next spring, O'Neil expects that a mural, estimated to cost an additional $40,000 and designed by local artist Judy Grossman, will be added to complete the attraction. The mural's future location at the corner of Seco and Main streets is now marked with a whitewashed wall.
During a special dedication ceremony for the new "Walk," set for Saturday morning at 11, O'Neil says a large-scale model of the mural will also be publicly unveiled. For images of Jamestown's new "Walk of Fame," click the slideshow in the upper left image box, where you may also click to view a brief video chat with O'Neil about it.