PAWS Shares Post Butte Fire News, Big Cats' Passings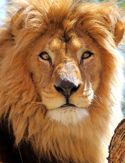 Bambek, PAWS Lion, 23, passes away Sept. 22, 2015

View Photos
San Andreas, CA – In the wake of recovering from the Butte Fire, PAWS (Performing Animal Welfare Society) wildlife sanctuary shares related news along with word of two PAWS residents' recent passings.
Big cat rescue Bambek, 23, was one of four African lions that Animal Defenders International was able to free from a Bolivian circus, after which they were relocated to the sanctuary five years ago. The last surviving of three males from that rescue, Bambek, like the others, developed cancer. According to PAWS officials, while chemotherapy gave him over two months of quality time, waning appetite and energy levels finally led his caregivers to humanely euthanize him on Sept. 22. PAWS also reports that Ginger, 16, who was among 39 tigers rescued back in 2004 from a "deplorable pseudo sanctuary" in Colton, Calif., had been euthanized a few weeks earlier, on August 26. Diagnosed with kidney disease in February and treated with medications and supplements, her kidneys eventually began to fail and she was additionally suffering from an aggressive tumor on an elbow that had regrown.
PAWS co-founder Ed Stewart says that while the recent Butte Fire impacted some of its staff members and that some lost "everything," the sanctuary, itself, situated within a grassy landscape of rolling hills and oaks, was never given an evacuation order. He recalls that one of the regional TV news stations, at one point, incorrectly reported that the facility had received orders but he immediately let them know the reporting was incorrect. Stewart also shares that, as required by law, PAWS has its emergency plan filed with Cal Fire and the California Department of Fish & Wildlife, was well-prepared to evacuate and kept in close touch with fire officials.
Fire Prep And Impacts
"We do a lot to try to get ready [for fire season]," Stewart says, sounding a bit tuckered out. He shrugs, "You know, everybody does, it's just a way of life. We've been here 16 years now and you do what you can…in June and July." The sanctuary, he says, brings goats in to eat down the high-danger grass areas around the barns and animals' facilities. While he concedes that the property, an old cattle ranch without the conifers and steep ravines that are harder to defend, is somewhat easier to create a firebreak on, fires are increasingly possible.
Since the Butte Fire broke out, Stewart says PAWS staff, including two of its veterinarians have been working to assist the local Animal Control, Humane Society and other animal welfare groups. Out of respect to all those who were impacted by the disaster, he adds that the sanctuary has cancelled its annual fall fundraiser, the 2015 Elephant Grape Stomp: An Afternoon In TUSKany, which had been scheduled for Oct. 17.
Responding to current breaking national news that President Obama and Chinese President Xi Jinping, in their recent White House meetings, have agreed, for the purpose of African elephant preservation, to enact ivory bans aimed at halting the domestic ivory trade, Stewart says, "Just to get those two talking about it is a pretty big deal. China, of course is the biggest consumer of ivory and I think a lot of people don't know that you have to kill an elephant for the ivory, that you can't just cut the ivory off."
Stewart points to two bills now sitting on Governor Jerry Brown's desk, awaiting his signature that would end the sales of ivory and rhino horn in the state and ban the cruel use of bullhooks on elephants; the governor has until Oct. 11 to sign the latter bill.