Taking Out the Trash At Yosemite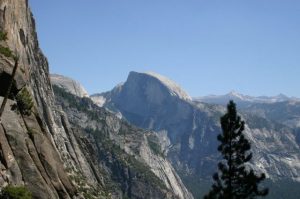 Yosemite - Half_Dome

View Photos
Yosemite, CA — Yosemite National Park celebrates National Public Lands Day with a facelift and a gift to visitors as entrance fees are waived for today.
Additionally, volunteers will continue the "Facelift" litter cleanup event going on much of this week at the park. "Last year, we had over 1,600 volunteers," shares park spokesperson Ashley Mayer, who points out, "Those volunteers collected almost 14,000 pounds of trash and debris from around the park."
The cleanup runs through Sunday and coincides with Yosemite's 125th Anniversary celebration, which includes special service projects and interactive anniversary-themed activities set up in the park. While celebrating the history of the park, Mayer explains that steps are taken to make sure possible historic artifacts do not end up in the trash. She notes, "Volunteers get a crash course in archeology so in case they come across any artifacts while there out there and the does happen."
Although park entrance fees will be waived Saturday, camping and other normally charged fees will apply.