Brown Asks Obama To Issue Disaster Declaration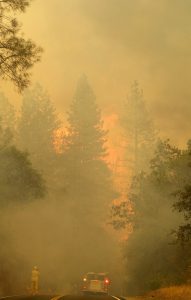 The Butte Fire When It Approached Highway 26 In Moke Hill

View Photos
Sacramento, CA — Governor Jerry Brown is asking President Barack Obama to issue a Presidential Disaster Declaration for the Butte Fire and Valley Fire recovery efforts.
A Presidential Disaster Declaration would trigger the release of additional federal funds to help fire victims and local disaster relief efforts. The Butte Fire has burned 70,760 acres and is considered the 12th most destructive fire in California's history based on the over 500 homes and 300 outbuildings destroyed. The Valley Fire is 75,111 acres, and is considered the fourth most destructive, with over 1,200 homes destroyed.
Brown's office notes that a combined 30,000 people needed to evacuate due to the two fires.