Unit Chief White Recaps Butte Fire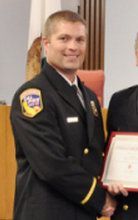 Cal Fire Tuoumne-Calaveras Unit Chief Josh White

View Photos
San Andreas, CA — CAL Fire Tuolumne-Calaveras County Unit Chief Josh White provided information about the early stages of the Butte Fire, and gave an update on current firefighting strategies in place.
Recounting the progress of the fire, which started Wednesday  in Amador County, north of Mokelumne River around 2:25 pm, in just two hours it was at 50 acres and burning rapidly into the Mokelumne River drainage. When it jumped over the river into Calaveras County, Cal Fire sent every resource in the unit it could muster, according to White. By 7:30, just five hours later, 1000 acres had burned in conditions that were at 97 degrees with 11 percent relative humidity, conditions ripe for exponential spread. While the plan was to hold Highway 26, the fire hit it and Thursday saw 4000 acres of which 300 to 400 acres had hit that highway and northwest winds continued to cause spotting ahead of the spread.
As the incident management team took control, the fire was at 14,600 acres — phenomenal growth, according to White, who notes that the incident commander said it was outside of what he had ever seen. Northwest winds gave the fire a punch on Friday, causing embers to land a mile ahead and the fire doubled in growth. White, who shared that he was introduced as Tuolumne-Calaveras Unit Chief during the Rim Fire and was only on job three months when that fire broke out. In Amador County, Cal Fire is continuing to hold a black line of containment and is working on buttoning up the Mokelumne Hill drainage. White adds that he is confident they are putting the Amador portion of the fire to bed.
Significant air resources were employed Friday on Glencoe and Railroad Flat, areas which have been significantly impacted. Cal Fire has cut a contingency line by Sheep Ranch and San Andreas behind fire line as part of a concerted effort to keep the fire from Highway 4. Additional lines are in place along San Andreas, east of Highway 49. White adds that winds seem to be shifting in favor of firefighting efforts and if the current weather pattern holds up and humidity continues to increase, along with a break from the triple-digit heat wave breaks, he is optimistic conditions will favor maintaining a foothold holding the Highway 4 corridor so that the fire does not reach the Stanislaus drainage.
Damage Assessments: A Hot Topic For Residents 
Saturday, according to White, was the first day that a damage assessment team was able to get in, as conditions are starting to allow for it. While the goal to repopulate is as soon as possible, conditions have to be safe before people will be allowed back into the mandatory evacuation areas. Several residents at the meeting voiced questions about the spread of the fire; when they might be allowed back in; property safety from looting; efforts to save livestock that could not be moved in time, among other concerns.
Click here to read a story detailing the Butte Fire's progression on Saturday.