Drought-Dead And Dying Trees: What To Do?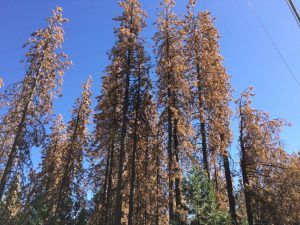 200 trees to be removed due to Bark Beetles Leisure Drive Sugar Pine

View Photos
Sonora, CA — Alarmingly apparent issues now on the rise due to drought-inflicted trees were the topic of much discussion and public comment.
Helping to frame for the Tuolumne County Board of Supervisors at its Tuesday meeting, how hard-hitting issues with dying trees are, particularly for private owners, Twain Harte resident Lee Dennis of Leisure Pines shared her story. Her words were among those heard from several residents, who chimed in to share their perspectives, along with representatives from public agencies and stakeholder businesses. Dennis' words hit home that the problem, already too big for some property owners, is now, literally, stacking up on her.
While, over the years, Dennis shared that she had taken down a few trees, due to the drought, PG&E came in and cut many on her open half-acre property. As it is not its policy to haul the timber away, currently, she says, "I have 20 to 30 trees down in my backyard…and…no money to get rid of those trees."
Continuing, Dennis implored, "On a fixed income — I hate that term, but it's true…I just need help…to know where to go. I'm so grateful that you're looking at these issues." She added that in her 37-year tenure at the property, she has paid to cut down trees. "One or two, fine. That will fit in the budget — but no more [than that]. Please do everything you can to expedite this, because you can't give the wood away — I've been trying to give it away for over a year and it's just too prolific."
County Emergency Services Coordinator Tracie Riggs reported that various tree mortality issues are now having a cascading effect due to four years of drought, and the problem is now becoming a dire one, not only locally, but in many counties across the state. By banding together, she pointed out that local governments would have more of a voice in tapping funding and resources, although it is currently unclear from just where that could come.
Relaxed Rules For Timber Taking
State fire agencies and regional fire councils are beginning to spread the word about new tools for landowners, under much relaxed tree removal rules recently set in place by the State Board of Forestry and Fire Protection, as previously reported here, According to Cal Fire Unit Forester Adam Frese, for tree removal projects on less than 20 acres, no forester needs to be involved, and there is no limit on the percentage of timber that may be cut. The regulatory relief now in place, he says, has been streamlined to make the process as painless and efficient as possible.
As he points out, "There's no cost for permit, which is good for one year, and no time delay — no need for a timber harvest plan or archeological addendum." However, he says that the logging must be done by a licensed timber operator. As local timber mills are able to make shifts in order to accommodate more incoming timber, it is possible, he says, that harvested trees with some salvage value to "pay their way off the properties."
Riggs stated that a public information campaign will be needed to spread the word and provide guidance for landowners. Ahead of that, county policies and plans for handling dying trees to protect public safety, infrastructure and essential services, such as water and power  are now necessary.
Then there is the issue of funding. Declaring a state of emergency separate from the current drought state of emergency would allow the county to seek financial resources and continue to handle issues related to dying and dead trees, as it proliferates into the coming years, even if drought conditions ease or dissipate. Over the course of the discussion, it appeared that this may well be the direction the supervisors may choose to pursue.