Streamlined Process For Downing Dying Trees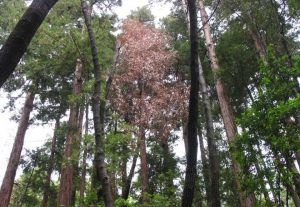 Impacted Trees

View Photos
Sacramento, CA — Those with dead and dying trees due to the drought may soon take advantage of a new state regulation that simplifies the process to harvest them.
According to the Board of Forestry and Fire Protection Executive Officer George Gentry, as extended drought conditions continue taking a toll on trees, particularly pines, public and private landowners should become very aware of current conditions in their own particular stands of timber. Simply, he says, "We're reaching past a tipping point. The accelerated die-back has tripled — quadrupled over the last year…in the Sierras." He warns that deterioration, both due to the weather conditions and bug infestations on overstressed, now vulnerable trees can come on very rapidly.
Traditionally, Gentry explains, landowners would have to had filed a timber harvest plan through a process that might take several months and cost several thousands of dollars. The streamlined guidelines, approved June 18, use a much simpler and more abbreviated form and one to two-week approval chain that does not require a prerequisite study, saving both time and cost. The form should be ready sometime next week on the CalFire website, according to CalFire Tuolumne-Calaveras Unit Forester Adam Frese. Interested parties will be able to find it as part of a list on the CalFire resource management forms page.
"We have always had a provision to remove dead and dying trees," Gentry notes. "But it was limited to ten percent. Because of the extreme dieback, we are way beyond ten percent in many of these stands, between 30 and 50 percent in some…we've had to provide some additional flexibility, so people can get in there and mitigate the hazard."
Tapping CalFire and Fire Safe Councils
Gentry encourages communities to have landowners group together to file a form and then tap qualified operators to assist. "I always recommend that people talk to their local Fire Safe Councils, because you usually have people that are very active and interested in this, and they can probably help you…secondarily, you can just talk to neighbors, especially if you have neighbors that all have five to ten acres…and then…contact your Unit Forester."
Reportedly, the Highway 108 Tuolumne Fire Safe Council plans to address the new regulation at its meeting later today in Sonora. CalFire Unit Forester Frese, who plans to attend, says he is unsure what kind of funding, if any, might or may become available to help homeowners.
However, with or without financial assistance to tap, Frese says the new regulation will hopefully remain a useful tool that will enable landowners to act quickly, file the form, and then work with CalFire, which has jurisdiction over commercial timber operations on private properties. While it cannot recommend specific contractors, CalFire maintains a contact list of timber operators and helps facilitate the process.
"We try to encourage people, when you do notice trees fading from bark beetles to act quickly and get rid of them — it's one of those things that, the longer you wait, the wood loses its integrity fairly quickly," Frese states. While pine values are currently down, due to a market abundance from the Rim and King fires, there are three Tuolumne County facilities that are able to process the material.
Whether timber removal makes money for a landowner, breaks even, or goes into the red depends on numerous variables, according to Frese. However, he explains, whenever possible, the idea is to try to "have the trees pay their own way off the property," by capturing whatever value there might be left in them.
Frese notes that local CalFire contacts for related landowner assistance are Area Foresters Roger Petersen in Tuolumne County, at 532-7424, ext. 109; and Gary Whitson in Calaveras County, at 754-2708.
For more details on the Tuolumne County Highway 108 Fire Safe Council, click here.