Orphaned Cubs Need Human Support And Space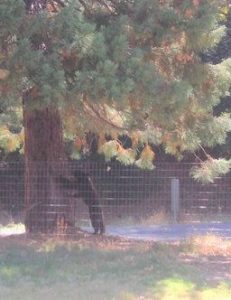 One of the bear cubs

View Photos
Mountain Ranch, CA – Ironically, three bear cubs in Calaveras County need the help of humans if they have any chance to make it in the wild after a bullet took their mother.
Rumors have circulated around the community of Mountain Ranch that it was a poacher who, earlier this month fired the fatal shot. "I wouldn't classify it as a poached bear — we don't know the circumstances around her death and we are trying to find out what happened," said Janice Mackey spokesperson with the California Department of Fish and Wildlife (CDFW).
The now motherless cubs are between five and six months old, according to CDFW Wildlife Biologist Eric Kleinfelder, who says their best chance at survival is for humans to leave them alone. "We want them to stay away from people, and they can do that. They aren't the only bears living in the Mountain Ranch area, but they need to remain anonymous," he explains.
Residents can play a key role through their actions. As Kleinfelder recommends, "The more that people reduce things like food and water that can attract bears, the better for the bears…it reduces the chance there's going to be a conflict later on with people."  Kleinfelder also advises locals to lock up trash and not leave pet food outdoors.
Currently, the department, with help from area residents, is monitoring the cubs, who were last sighted about two weeks ago. This is good news, according to Kleinfelder, since being forced to move the cubs is the last thing the department wants to do, as it believes the best place for them is where they were born. As he points out, "They know the area. Their mother raised them there. She showed them the hiding spots…where they can find food and water, so to move them from that area is not a good long-term option for the survival of the cubs."
The CDFW is asking that anyone with any information regarding the shooting of the cub's mother to call the Cal Tip line at 888-335-2258.