McClintock Addresses Business Council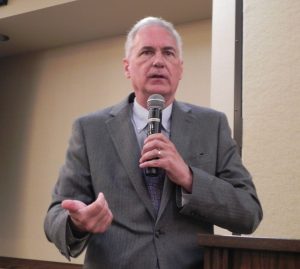 Congressman Tom McClintock

View Photos
Sonora, CA — At an afternoon luncheon in Tuolumne County, Republican Congressman Tom McClintock talked about everything from the budget, to the drought, to Donald Trump.
McClintock was the keynote speaker at the Tuolumne County Business Council luncheon held at the Black Oak Casino Resort. McClintock opened up by speaking about the lingering drought and a correlating increased risk of fire. He expressed optimism that some form of drought legislation would pass through both houses of Congress at some point in the near future. McClintock recently helped author the "Western Water and American Food Security Act" which would deter some of the environmental restrictions that have made it more difficult to store water. McClintock said, "Droughts are nature's fault, but water shortages are our fault." He expressed frustration that around 30,000 acre ft. of water was released from New Melones last April, and he said it was done to protect only 29 steelhead trout.
He also spoke about the "Resilient Forests Act" that he is pushing in Washington, DC. It would protect some forest management project funding from being absorbed into firefighting accounts, during busy fire seasons. Instead, extra funding to fight fires would come from pots already set aside for natural disasters. He said the legislation would also help speed up the immediate salvage work following a fire, and reduce environmental hurdles.
During a question and answer session, McClintock was asked what he thought about a potential Donald Trump presidency. McClintock praised Trump for bringing issues like immigration to the forefront, and pushing candidates to address difficult topics. However, he questioned some of Trump's tactics, and feared that he could find it hard to attract enough swing voters to win the election. McClintock acknowledged that he is endorsing Wisconsin Governor Scott Walker for President, but noted that he would support Trump if he was to receive the Republican nomination. When McClintock was asked about a possible Hillary Clinton presidency, the Congressman said he does not think about it much, because he is not predicting that she will win the Democratic nomination. He compared her campaign over recent weeks to the equivalent of watching someone try to standup in a hammock.
McClintock was also asked a couple of questions about the $18.2 trillion deficit, and the Congressman said it is the main issue in the country that "keeps him up  at night." He noted that Republicans have a budget proposal that would start paying down the debt, but indicated it could take upwards of 30 years to completely get spending under control, as many program cuts would need to be phased in over time.
The afternoon luncheon was attended by several Tuolumne County business and government leaders. McClintock's District Four covers the Sierra Nevada region.