End Of August Weekend Events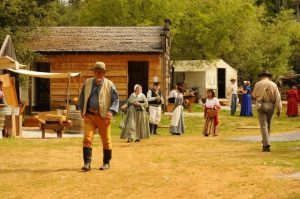 Columbia State Park

View Photos
There are several fund raising events this weekend and two other events that are related to taxes. As reported earlier today as Friday's KVML "Newsmaker of the Day" the Calaveras County Taxpayers Association is accepting reservations today for their annual barbecue fundraiser.
There will also be a Town Hall Meeting about the Cal Fire fee on Saturday. The Calaveras Consolidated Firefighters Association, invites members of the community to a town hall meeting about the fee. George Runner from the State Board of Equalization and John Coupal from the Howard Jarvis Tax Payers Association will be there. Details are here in the event listing.
The Sonora Elks Lodge is hosting a Hawaiian Luau today. Dinner Served at 7:00p.m. Menu details and cost are in the event listing here.
The Sonora Moose Lodge # 2183 is holding an Open House on Sunday from 11am until 2pm. Get all the information regarding their lodge membership, community functions and information on how to belong to the organization plus food will be served. Details are in this event listing.
The last of four History's Mysteries is at Columbia State Historic Park this Saturday. Join park staff and costumed volunteers in a live reenactment and solve a real historical case. More details and information are here.
The Railtown Volunteer Open House is also this Saturday. The California State Railroad Museum Foundation is already planning for the holidays and preparing for the second season of THE POLAR EXPRESS™ Train Ride in Jamestown this December. To find out more view the event listing.
A Golf Tournament and Dinner and Fund Raiser for CFLC (Christian Family Learning Center) Elementary School in Angels Camp. The school is celebrating its 25 year anniversary, details are here.
The Happenings at the Hacienda is a fund raising event for The Resource Connection being held at Villa Vallecito Vineyards. Event details are here.