BMM Decision Postponed Due To Lack Of Quorum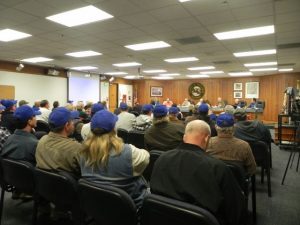 Blue Mountain Minerals Project First Went Before Planning Commission In December Of 2013

View Photos
Sonora, CA — The Tuolumne County Planning Commission will wait until later this month to make a decision on Blue Mountain Minerals planned expansion of its agricultural fill area.
As reported previously, the commission planned to vote last night on the Draft Environmental Impact Report for the proposed 27-acre expansion. One Planning Commission seat is currently vacant due to the recent resignation of David Fulcher, commissioner John Latorre could not attend last night's meeting, and commissioners Cole Pryzbilla and Charlotte Frazier recused themselves due to a conflict of interest. The only members that would have been able to vote last night were Dick Pland, Peter Rei and Jerry Baker. Because four is required to meet a quorum, the Blue Mountain Minerals decision has been postponed until Monday, August 31st.
While the currently open commission seat is not anticipated to be filled until after August 31st, commissioner Latorre is expected to be available for the special meeting, allowing the minimum of four to vote.
Community Resources Agency Deputy Director Mike Laird says the special meeting will begin at 6pm in the Supervisors meeting room in downtown Sonora.