Water Districts Reach Tentative Deal Over Tulloch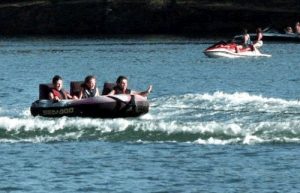 Lake Tulloch Recreation

View Photos
Copperopolis, CA – After about two weeks of discussions, the Tri-Dam Project partners say they have tentatively come to a deal with federal regulators that would prevent tapping of Lake Tulloch waters for downstream fish relief through the summer recreation season.
According to Tri-Dam General Manager Ron Berry, the Oakdale and South San Joaquin irrigation districts (OID and SSJID), hope to finalize with National Marine Fisheries Studies (NMFS) and US Bureau of Reclamation (BOR) an agreement on exactly how they will manage water releases from New Melones Reservoir over the next five months.
"We [will] make sure that we have the right amount of water allocated to make the [set] releases," explains Berry. "Likewise, the water districts will have a set amount of acre-feet that they can use." The Feds would then need to determine how to set their fish pulses, which are minor water releases, within their allotment.
OID General Manager Steve Knell chimes in, "What we are saying [is] we have a plan that works. Both the Feds and the irrigation district agencies have agreed to it – we need concurrence from the State [Water Control] Board that the Bureau's temporary urgency change petition will be granted…if that goes through…this plan will not impede anybody's ability to have water for this year."
Submitted to the state earlier today, the petition asks for relief from releases to achieve objectives under non-drought conditions for salinity, dissolved oxygen and certain ancilliary fish flow requirements. A hearing is expected to be held on it within two weeks, says Knell. Under the plan, he says, the districts anticipate normal water operations for Lake Tulloch through December. However, should the state not give its approval to the change petition, the deal would "fall apart."
In a typical year, Tri-Dam works under the inflow from New Melones, explains Berry. "Typically, we have hundreds of thousands of acre-feet to work with, so the districts are allotted the first 600,000 acre-feet of water that flows into New Melones under the 1988 agreement with the Bureau of Reclamation, and NMFS and the Bureau would have whatever water they would need to make their fish pulses, and Schedule 2E releases."
Currently, Berry says, "We're still about 1.2 inches of precipitation behind 1976, which was our driest year since 1958 that we have been recording — currently, the reservoir has about 585,000 acre-feet." Run off from the snowpack survey measurements, which will be available in early April, will determine the approximate amount of inflow the districts might expect through September 30, which marks the end of the current water year. Berry notes that, as March and February were both dry and January was one of the driest on record, the outlook is dim for any appreciable inflow amounts.
This fall, as New Melones will be at dead pool levels and Tulloch will be close to its draw down levels, Berry anticipates probably running the system's federally and state mandated five-year gate exercises two years early to cover the requirement through 2020.