Asphalt Plant Issues Continue To Simmer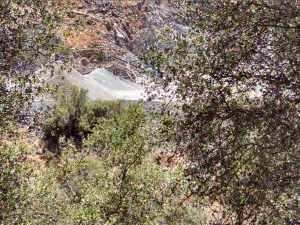 Site of proposed Ford-Construction-owned asphalt plant, July 6, 2015

View Photos
San Andreas, CA — Plans for a hot asphalt plant in Valley Springs may well continue to simmer through the permitting process for the next several months.
According to county Planning Director Peter Maurer, last Friday, July 10, Ford Construction filed an appeal to county Environmental Management Agency Air Pollution Control District (APCD) head Brian Moss' July 2 determination that potential impacts of asphalt, a hazardous material, would require a conditional use permit for development of the plant.
Maurer states, "The process that I went through initially…permitted [the plant], by right, in the General Industrial Zone…there's a list of uses that are allowed within the zone…and we determined that this fit the category that was listed there."
He acknowledges, at the time, staff was unaware of the provision that, regardless of permitted use, a conditional use permit would be required from planning if the county environmental health officer determines a potential for a significant environmental effect. In hindsight, Maurer says, if a bit ruefully, "It's unfortunate that we didn't maybe look at everything upfront."
Likely Appeals Ahead
Current plans are for the commissioners to hear the appeal sometime in August, according to Maurer. He notes the process is not likely to smooth the way forward for the plant. As he explains, "If the Planning Commission reverses Mr. Moss' determination, it can be appealed [by county staff] to the Board of Supervisors, and probably will be. If the commission holds with the determination, then Ford Construction will probably appeal it, so it's likely to be appealed, whichever way it goes."
Should it be finally ruled that a conditional use permit is required, Maurer says the county will be required to analyze the proposed plant's potential impacts and, if need be, come up with mitigations. Depending on the complexity of what paperwork might be required, Maurer estimates a negative declaration report might take four to six months and an environmental impact report (EIR) at least a year to complete. Contacted for the story, attorneys representing Ford Construction indicated they and their clients had no comment.
As previously reported, the Calaveras County Water District (CCWD), which had previously filed an appeal with the planning department of Maurer's original determination, withdrew it after reaching and signing a written agreement with Ford Construction that, according to CCWD spokesperson Joel Metzger, mandates that the operator go through all necessary environmental reviews and work with the state water and air pollution control boards to ensure that the plant will not have any impacts on the water supply.