GOP: Senate Democrats Won't Fund Our Military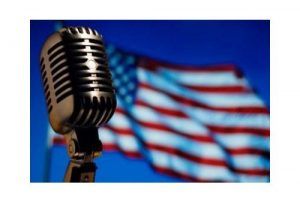 Microphone and US Flag

View Photos
In this week's Republican address, Senator John Boozman of Arkansas discussed the important of funding America's military.
Boozman was Tuesday's KVML "Newsmaker of the Day". Here are his words:
"Hi I'm Senator John Boozman from Arkansas.
In an era where we face growing challenges from China and Russia as well as the persistent threat of terrorism, Republicans and Democrats alike say they want the United States to maintain its military dominance.
However, those words must be matched with action. We must take the necessary steps to protect our country from the evolving dangers facing our nation and its citizens and continue offering security to those people who face tyranny and oppression around the world.
The threats and challenges of the 21st century require a military that is manned and equipped with the newest technology, equipment, and training. Accomplishing this requires that we provide the Department of Defense the resources necessary to make these updates.
This is a priority for Senate Republicans. That's why we are fulfilling the promise to make the Senate work for the American people and return to regular order.
As a member of the Senate Appropriations Committee, my colleagues and I are prioritizing how we spend taxpayer dollars. This is a basic responsibility of Congress that for too long was ignored by the Democrat-controlled Senate.
There should be no question that ensuring our service members have the training [and] equipment they need to fulfill their missions is a worthwhile use of taxpayer dollars.
The role of the federal government is to defend our country and we must take appropriate steps to maintain the readiness of our troops. This is reflected in the work we've done in the Appropriations Committee, where the Defense Appropriations bill passed with overwhelming bipartisan support.
Unfortunately, Senate Democrats are working to stop funding these priorities that will keep the men and women of our military safe, protect our nation against security threats, and help us fight violence around the world.
This strategy to avoid Senate debate of the Defense Appropriations bill risks serious damage to our national and global security.
Blocking this bill reduces readiness by depriving service members of the supplies they need to effectively carry out their missions.
It deprives the Department of Defense the budget certainty and ability to plan that comes when Congress passes this legislation in a timely manner.  Unfortunately, the last time this was accomplished was in 2006.
We must remember that our enemies around the world view this political gridlock as a sign of weakness.
This perception invites our enemies to create chaos and engage in aggressive, destabilizing behavior.  Look no further than Russia's actions in Eastern Ukraine as a prime example.
Arkansas is a proud contributor to our nation's defense. More than 15,000 Arkansans selflessly and proudly serve our country.
It's home to facilities that help produce ammunition, explosives, artillery shells, rockets and missiles that are all vital to combat operations our service members rely on during their missions.
The protection of our troops and the safety and security of our nation is not a game, but Democrats are willing to play politics with our military to get more money for the agencies that have abused their power like the Environmental Protection Agency and the IRS.
There will be plenty of time to debate our domestic spending priorities. Now is not that time."
The KVML "Newsmaker of the Day" is heard every weekday morning on AM 1450 KVML at 6:45, 7:45 and 8:45 AM.