Changes Along Tulloch Shores Reduce Access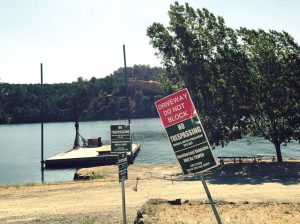 Lake Tulloch, at part of the now-closed north shore marina area on O'Byrnes Ferry Rd.

View Photos
Copperopolis, CA — Since last season at least two changes along the shores of Lake Tulloch have reduced public parking and/or access.
With the makeover of the former north shore resort on O'Byrne's Ferry Road to a drug and alcohol rehab facility now known as The Lakes Treatment Center, the lodging facility has been gated and no public parking is allowed.
Additionally, the marina property directly adjacent, which housed boat and other recreational rentals and where boat owners could pay a fee to launch is no longer open. In recent weeks, both the sizable paved marina parking lot and unpaved area have been completely blocked off; the former with large rocks, pipe and chain; the latter with ropes. Last week, to make it even more explicit that these areas are no longer open for public use, several "No Trespassing" signs were posted all along the perimeter, augmented with warnings indicating that unauthorized vehicles would be towed.
While operators at South Lake Tulloch R.V. Campground and Marina in Jamestown are reporting brisk business, "as usual," this summer, CalFire has deemed approximately a half-mile of the location's shoreline a fire hazard, due to the drought. The closure of the area has reduced the facilities' parking by about 30 to 40 spots, so that it fills up much faster these "peak season" days. For this reason, potential visitors are advised that arriving well before 1 p.m. will increase their probability of finding a spot.
As previously reported, the lake's recreational season is expected to continue through Labor Day Weekend, after which the waters are expected to be drawn down for downstream needs as well as to run federally and state-mandated five-year gate exercises two years early, in order to cover the requirement through 2020.