Updated: Fitch Ranch Road Fire Grew To Eight Acres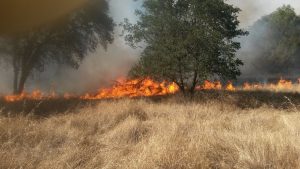 Fire On Fitch Ranch Road
Updated at 5:30am: CAL Fire reports the final acreage on the Fitch Ranch Road Fire was eight acres. A couple of engines remain on scene this morning mopping up the incident. Initially a couple of homes were threatened, but there were no reports of any damage.
A special thanks to community news partners Sally Van Bolt, Shelly Davis-King and Jay Stark for emailing photos and video of the fire. They can be submitted to news@clarkebroadcasting.com.
Updated at 6:30pm: Firefighters have stopped the forward rate of spread on the vegetation fire along Fitch Ranch Road near Yosemite Road.
The location is just outside of Tuolumne City. CAL Fire reports that the fire is around four acres in size. Some of the initial responders have now been released from the incident, but many others will remain on scene this evening to help fully extinguish the fire. Initially there were reports that some structures could be at risk, but at this point there have been no reports of any homes damaged. It is not immediately clear what caused the fire to ignite.
Original Story at 6:10pm: Tuolumne, CA — There is a vegetation fire burning near Tuolumne City.
CAL Fire reports that the 2-3 acre vegetation fire is along Fitch Ranch Road near the intersection of Yosemite Road. Air and ground resources are on scene. Cal Fire reports that a couple of structures in the area are threatened.