Thieves Hits Animal Shelter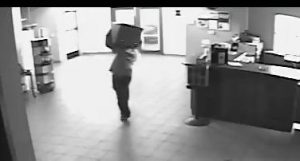 Surveillance video of thief carrying safe out of Humane Society of Tuolumne County
Jamestown, CA – Tuolumne County Sheriff's Detectives are searching for a man and woman who broke into the animal shelter in Jamestown and could be linked to the Sonora Mini Mart burglary.
Sheriff's officials say the theft occurred Sunday, before 6 a.m., at the Human Society of Tuolumne County on 10040 Victoria Way.  Shelter Director Doryene Rapini says a worker walking down Highway 108 actually spotted the thieves.  "He sees a red Subaru Forester with a woman inside.  Then, he sees this man coming to the top of the property jump the fence that goes along the highway to the car.  As he gets to work, he gets into the building and notices my office door is open, and then the police arrived."
The thieves got away with $600 dollars, according to Rapinin, who adds, "Basically he just powered the doors open and…knew exactly where to go.  He hit the cash register and then he kicked and slammed against my door…he knew where the safe was, and took the whole safe." She speculates, "Whether he was there, as a community service worker, and had scoped the place out, I don't know.  He was in and out of there in less than two minutes."
The thief is seen on surveillance video in the upper left hand box going directly to the cash register.  Detectives reviewed the video and took fingerprints from the office.  Rapini believes the man in the video looks like the same man that burglarized the Sonora Express Mart. As reported Monday, a man broke into the mart on Pesce Way, Saturday, May 30, about 1:30 p.m., and got away with $3,000 in cash.  Sheriff's spokesperson Scott Johnson says, "We can't say definitively if it is the same person, but it is one of the things we are looking at with our detective division."  Johnson adds his detectives have already been in contact with Sonora Police.
Angrily Rapini says, "I'm so disgusted" as she believes the total cost to the shelter is around $1,200, as the safe, keys, and door locks had to be replaced.  She describes the woman driving the Forester as heavyset, in her thirties with dark hair.  Rapini hopes someone will recognize the thieves so they can be caught, as she warns, "I'm sure he's not through robbing places up here."