Sonora Market Loses $3,000 In Burglary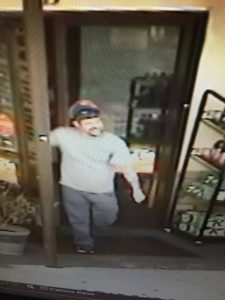 Surveillance photographs

View Photos
Sonora, CA — Sonora Police have released surveillance photographs of a suspect and the vehicle he arrived in. Police say that on Saturday, May 30th at about 1:30 pm, a white adult male entered the office area of Sonora Express Mart on Pesce Way, and removed over $3,000 in cash.
The business's video surveillance shows the suspect is about 5'10", average build, wearing a black or dark blue backwards baseball hat, black sunglasses, solid gray shirt, and blue jeans. Additionally he was described as having side burns and a large goatee, but "it appears there was no facial hair immediately under his lower lip." He has a large tattoo on his left forearm but the details of it are unclear.
The suspect arrived as a passenger in a red/burgundy hatchback with an oval shaped emblem, possibly a Toyota, tinted rear windows, and a moon roof.
The police department notes the surveillance photographs of the suspect and the vehicle he arrived in are poor quality. They were released with the request that anyone having information about the man to call the Sonora Police Department at 532-8141.