Renowned BASE Jumper Dies In Yosemite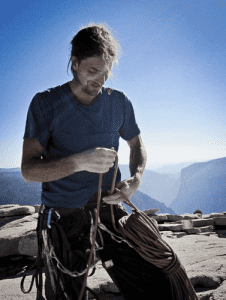 Dean Potter

View Photos
Yosemite, CA — An extreme athlete, known for daring adventures, has died in Yosemite National Park.
Dean Potter, 43, and friend Graham Hunt, 29, were killed while attempting a wing suit flight from the 7,500 ft. Taft Point. Potter was a longtime fixture in Yosemite National Park. Last year he was featured in the documentary film "Valley Uprising" about climbing in Yosemite. He previously had endorsement deals with companies like Patagonia and Clif Bar.
The suits that Potter and Hunt were wearing are skin tight and have batwing sleeves that were designed to help them glide. A spotter lost contact with the two men on Saturday and contacted authorities. Yosemite Search and Rescue officials went out Saturday evening, and the men were eventually located dead in Yosemite Valley on Sunday. Their parachutes designed to slow their descent did not deploy.
Potter was one of the best known BASE jumpers, nationally. The Associated Press reports that BASE stands for buildings, antennas, spans (such as bridges), and Earth (such as cliffs and mountaintops) that jumpers can parachute from. The sport is illegal in all national parks, and it's unclear if the men jumped at dusk or at night to avoid being caught by park rangers.
It is noted that Potter was also famous for often taking his Australian Cattle Dog "Whisper" on several climbs. The dog was not with him on Saturday.